This article originally appeared in ABM in Action.
---
As companies continue to adopt ABM strategies within their businesses, preliminary research from Madison Logic and Demand Gen Report shows that more than half of marketers (53%) still struggle to identify and reach the entire buying committee. While knowing target accounts is important, it's also table stakes for companies to identify key stakeholders within each target account and have intelligence on them.
"The old model of saying, 'I just want to reach five people or one decision maker at a target company,' doesn't work anymore," said Sonjoy Ganguly, Chief Product Officer for Madison Logic, during a session at the B2B Marketing Exchange. "The most sophisticated marketers are starting to leverage omnichannel strategies that can help them engage more people at more companies, so they can ultimately shorten their sales cycles and drive the ROI of their marketing programs."
ABM may be widely adopted since it skyrocketed as a practice in 2016, but that doesn't mean marketers still face ongoing obstacles when executing it, according to the survey titled: Strategies To Support The Consensus Sale. Other challenges noted by survey respondents include:
Lack of relevant content necessary to drive account-based lead generation programs (54%);
Reaching the right audience with the right message (53%); and
Difficulty to coordinate marketing efforts with sales (43%).
Many concerns fall under content and the struggle of creating messaging that resonates with various stakeholders in target accounts. According to Ganguly, a one-size-fits-all content strategy doesn't cut it, and relevancy is key.
"In order to engage much larger audiences at [target] companies, the marketers we're working with really find value when they run cross-channel strategies," he said. "Also, it's important to learn that one-size-fits-all content doesn't work anymore. In order to be effective, [marketing and sales] need to understand what's relevant to their buyers and deliver content that's more engaging based on their pain points."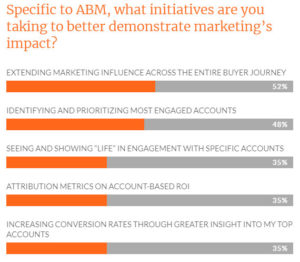 Extending Influencer Across The Buyer Journey Is A Top Priority
To alleviate some of the ABM-related challenges they noted in the survey, respondents shared a variety of initiatives they are taking to better demonstrate marketing's impact. A top strategy prioritized by more than half (52%) of survey respondents is "extending marketing influence across the buyer journey." Additional initiatives include:
Identifying and prioritizing most engaged accounts (48%);
Seeing and showing "life" in engagement with specific accounts (35%);
Attribution metrics on account-based ROI (35%); and
Increasing conversion rates through greater insight into top accounts (35%).
"We as marketers have to step back and stop thinking about individual leads," said Ganguly. "We have to think about the business and the accounts that we're trying to engage and how that's driving and impacting sales and, ultimately, our top-line revenue."
---
Stay tuned for Madison Logic's comprehensive research report, Strategies for the Consensus Sale, to be released in April 2018.
Be the first to know
Subscribe to receive the latest B2B marketing research, whitepapers, articles, infographics, ML news, and more.