Madison Logic Named a Leader in The Forrester Wave™: B2B Intent Data Providers, Q2 2023!
Blog
Give Thanks to These Proven ABM Strategies You Can Use for Your 2023 Campaigns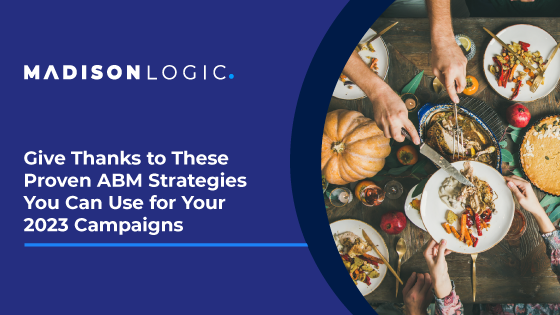 This holiday season, there's a lot to be thankful for: a warm home filled with delicious food, friends, and family that bring us joy, and a big game that delivers the correct type of entertainment necessary after eating too much tryptophan. Those in the U.S. know that Thanksgiving is more than just turkey; it's about the entire experience that makes us grateful for all we have.
The same can be said about account-based marketing strategies. Marketers don't just use ABM to gain a customer with a short lifespan. We truly leverage ABM to build campaigns that deliver a personalized experience to grateful buyers and encourage them to come back for seconds and thirds through lifetime partnerships and advocacy. In the spirit of the season of giving, let's give thanks to these proven ABM strategies that amplify our campaigns and keep our customers coming back for more.
We're Thankful that We Understand the Buyer's Journey and How to Target Our Best Accounts
Successful B2B marketing requires understanding the buyer's journey, which has evolved over the last decade. The B2B buying journey is not a one-shot process; it involves targeting multiple stakeholders, dealing with longer sales cycles, and lots of content consumption by the buying committee. Marketers must be smart in their targeting, focusing on the right accounts and speaking to each member of the buying committee.
With these facets of the buying committee and the buyer's journey in mind, we are incredibly thankful that we can adjust our marketing strategy to meet them where they are in the buyer's journey by following these key strategies:
Targeting the right buyers. Since there are multiple decision-makers in a buying group, you need to ensure that you understand buying group dynamics and who the "champions" are. This is often initially identified by their level of engagement around your solution. By identifying these members and what they care about, you can build an ABM strategy that helps them understand their problem, tells them how to solve it, and why partnering with your organization for the solution is the best choice for their future business success.

Building strong target account lists and buyer personas. Gain insights into how the buying groups decide and how they prefer to interact. Use

multiple data sources

such as buyer intent data, firmographic data, technographic data, and historical engagement data to map out key buying group characteristics and behaviors. Validate all your assumptions with your customer success and sales team (

marketing and sales alignment

is critical here). This approach will guide your campaign strategy by delivering the right content to the right members of accounts at the right time.

Leveraging data to understand where your buyers are in the buyer's journey and use that to serve them the best content and sales outreach. The best marketers plan the long game by capturing demand and creating demand consistently to stay in front of target accounts. This results in

74%

of buyers choosing the first company to add value.
We're Thankful that We Can Use a Multi-Channel Approach to Deliver Relevant and Personalized Content
89% of buyers say it's important that vendors provide relevant content at each stage of the buying process. While you can't directly talk to the entire buying committee everywhere they go, you can activate content on the channels they use the most. That's why we're thankful for a multi-channel approach built on these strategies:
Activating integrated campaigns across channels with the help of an ABM platform.

Multi-channel ABM

with Madison Logic helps you manage your campaigns across the dominant paid media channels including content syndication, display, and social advertising channels. Instead of measuring engagement with your best content and messaging within three platforms, the ML Platform gives you a unified view of campaign performance.

Optimizing the content and advertising across the sales cycle for the best accounts. Integrating your CRM with the ML Platform enables you to activate

Journey Acceleration

to tie campaign performance to your sales pipeline and CRM insights. This allows you to understand your content gaps in the sales cycle so you can dynamically adjust and nurture your best accounts into qualified opportunities.

Activating content nurture programs that accelerate buyers into the pipeline. Nurturing each member of the buying committee with relevant content and messaging for their buying stage drives consensus across multiple stakeholders. You can answer questions before they're asked, overcome last-mile objections, and move them into the sales pipeline faster.
We're Thankful for Full Visibility into Pipeline Impact
B2B marketing has shifted focus on campaign success from vanity metrics like site visits, downloads, and impressions to focusing on the pipeline impact. Suppose you can't show that your ABM campaign is working to fuel your sales pipeline and increase revenue for your organization through stronger customer experiences. In that case, you will need help to validate the business impact and justify additional resources for ABM.
Measuring the impact across channels and tying them to your pipeline can be a real challenge, but this accurately indicates our marketing success. So, we're extremely thankful for these strategies that help us understand our true pipeline impact:
Measuring your pipeline impact with the

three Vs

: volume, value, and velocity. Volume is the number of sales opportunities and deals created from your ABM campaigns. Value is the average revenue value of opportunities in your sales pipeline. Velocity is the average time it takes to convert your target accounts into customers. Using the three Vs is a great way to uncover the performance drivers within your ABM strategy and their effects on the sales pipeline.

Integrating an

ABM platform

to your CRM. Break down those silos between platforms and work with your sales team to gain that intelligence on how your ABM campaign drove opportunities into customers. When you use an all-in-one solution to measure your success, you get a single source of truth demonstrating how accounts move through each stage of the buying journey and how that experience impacts ROI.
In this era of marketing, effective campaigns make the difference between success and failure. We're so thankful that technology and data insights have allowed us to personalize the customer journey and create campaigns that stick. Going into the new year, keep these strategies in mind. As a result, you'll see happier customers, improved conversion rates, and stronger pipelines. That's a lot to be thankful for!
Happy Thanksgiving to all who celebrate!
---