Madison Logic Named a Leader in The Forrester Wave™: B2B Intent Data Providers, Q2 2023!
Blog
Introducing Journey Acceleration Measurement on ML Platform: Advanced Measurement Visibility into Pipeline Impact and Marketing ROI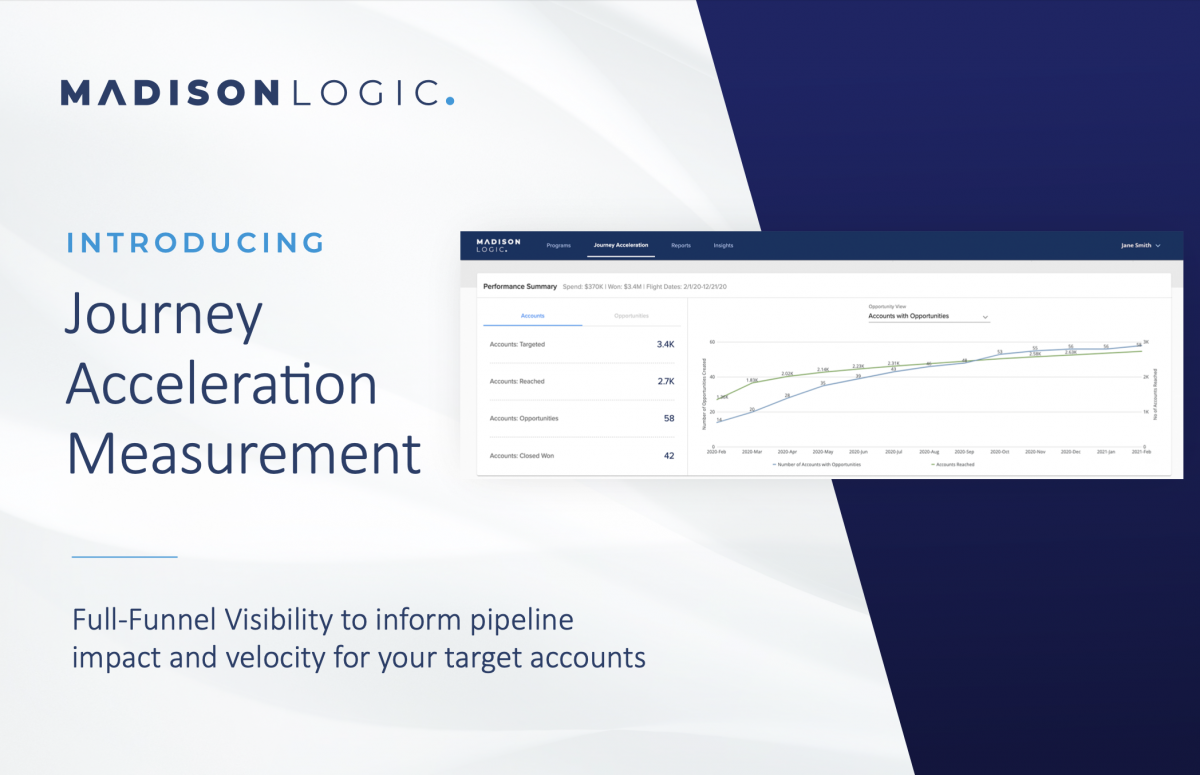 How does the marketing organization influence the number of sales opportunities and closed deals?
How fast are they moving opportunities through the sales cycle?
And perhaps most importantly, how well are your campaigns increasing the average deal size and total pipeline value?
Today, we're excited to continue delivering our promise of helping marketers unlock the full-funnel visibility that validates marketing's impact on growth and ROI.
Journey Acceleration Measurement enables B2B marketers to measure and optimize multi-channel account engagement and campaign performance across the buyer journey, as well as document direct impact on pipeline and revenue. 
Identify how marketing is engaging across multiple channels
Potential customers don't consume information in just one location.
In fact, according to Gartner, only 17% of the typical sales cycle includes meeting with potential suppliers. The rest of the time? Independent research across multiple channels and trying to rationalize those findings across the buying committee.
With Journey Acceleration Measurement, you can see exactly how your marketing activities are reaching and impacting targeted accounts across multiple channels, and how those targeted accounts are performing across the sales cycle.
Now, marketers can get a clear picture down to the individual account on the cumulative impact delivered by multi-channel campaigns. That means clear visibility into what's working best to engage across content syndication, display, and LinkedIn at each stage of the sales cycle.
Measure the volume, value, and velocity of pipeline and revenue
Marketers today are responsible for more than just lead generation.
Journey Acceleration Measurement within ML Platform gives marketers a comprehensive view into performance across three important vectors:
Volume: Understand the volume of opportunities created and deals closed through marketing activities.
Value: Easily see how the value of the average deal and total pipeline increases as a result of campaign performance.
Velocity: View and optimize toward faster sales cycles, influenced by the results of target account engagement.
With Journey Acceleration Measurement, marketers can quickly understand how their multi-channel performance influence the pipeline and revenue generated from their best accounts.
Optimize the companies and content to drive the highest conversion
With ML Platform, marketers can take a new approach to optimization for conversion.
While most campaigns today optimize for increased engagement, marketers today are able to understand the highest-performing campaigns, content, and messaging side-by-side with the accounts that are converting into new sales opportunities and closed revenue.
With intelligence available through a seamless integration with Salesforce, marketing can now optimize campaigns based upon what's actually working to accelerate the sales cycle.
With Journey Acceleration Measurement, marketers gain an unfair advantage through enhanced visibility into the impact of their identification and activation of multi-channel campaigns to a prioritized set of in-market accounts.
The intrinsic value of revenue influence and marketing ROI
Marketers today have a higher expectation than ever for demonstrating an impact to driving the growth of the organization. According to the 2020 Forrester Research Metrics Study, the two most commonly used metrics used by B2B marketing leads are marketing-sourced revenue and marketing-sourced pipeline.
The challenge for many of these marketing leaders has been the confidence and accessibility of this data across the entire sales cycle. Today, we're excited to continue helping marketers across the globe capture this visibility into pipeline and revenue performance and translate these insights into new opportunities for driving growth.
Want to learn more about how Journey Acceleration Measurement can help your team achieve greater visibility into full-funnel performance and pipeline impact? Reach out to schedule a personalized walkthrough.
---