Madison Logic Named a Leader in The Forrester Wave™: B2B Intent Data Providers, Q2 2023!
Convert to Conversations Blueprint: How to Turn Leads into Sales Meetings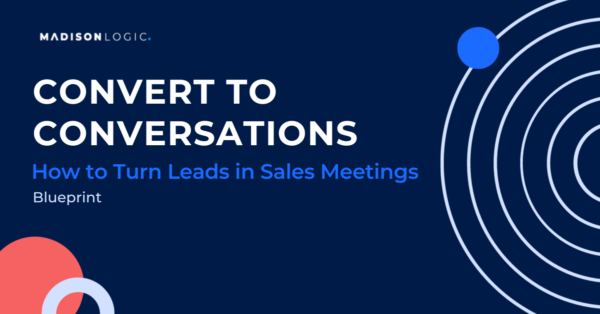 Just because you've received an inbound lead doesn't mean they're ready to speak to your sales team. Initial interest is the first step towards closing a deal, but first, you need to secure a sales meeting. From lack of urgency to lack of trust, there are a multitude of reasons your leads may not be prepared for a sales engagement. With increasing focus on campaign ROI, it's important to implement an account-based marketing (ABM) strategy that moves your leads from consideration to conversion.
This actionable blueprint provides a foundation for your marketing strategy to give leads the attention and personalization they require to empower them to take the demo or meeting
In it, you'll learn:
Five steps to develop a strong, repeatable approach to motivate leads toward sales meetings

How to leverage data for better content matchmaking for both personas and funnel stage

What metrics and key performance indicators help you optimize campaigns
Want to learn more? Join our new virtual event.
Generating qualified leads can be hard. Generating sales-ready leads can be even harder.
With the number of in-market accounts dwindling, receiving an inbound lead is not necessarily a signal that an account is ready to make a purchase. There are a variety of factors that may be preventing your prospects from speaking to your sales team, delaying conversion rates and impacting campaign ROI. So how do you address and overcome these concerns? It's time to turn your leads into productive sales calls that convert into opportunities.
In this virtual event, Senior Marketing Manager, Johanna Shirman, and Regional Vice President of Sales, Chris Malito, will walk through the techniques and strategic approaches to data utilization, messaging development, and sales alignment marketers need to convert inbound leads into meaningful sales engagements.
Topics for this event will include:
Common roadblocks preventing leads from converting into meetings and how to address them
Tips for developing a multi-channel strategy that better prepares accounts sales conversations
Actionable strategies for aligning sales and marketing efforts to activate and measure campaign success effectively
Join us to learn how you can generate higher conversions, drive better sales conversations, and create stronger business impact.
Click here to register now!