Madison Logic Named a Leader in The Forrester Wave™: B2B Intent Data Providers, Q2 2023!
Case Study
CrowdStrike Leverages Data-Driven ABM to Uncover Key Market Opportunities and Increase Pipeline Growth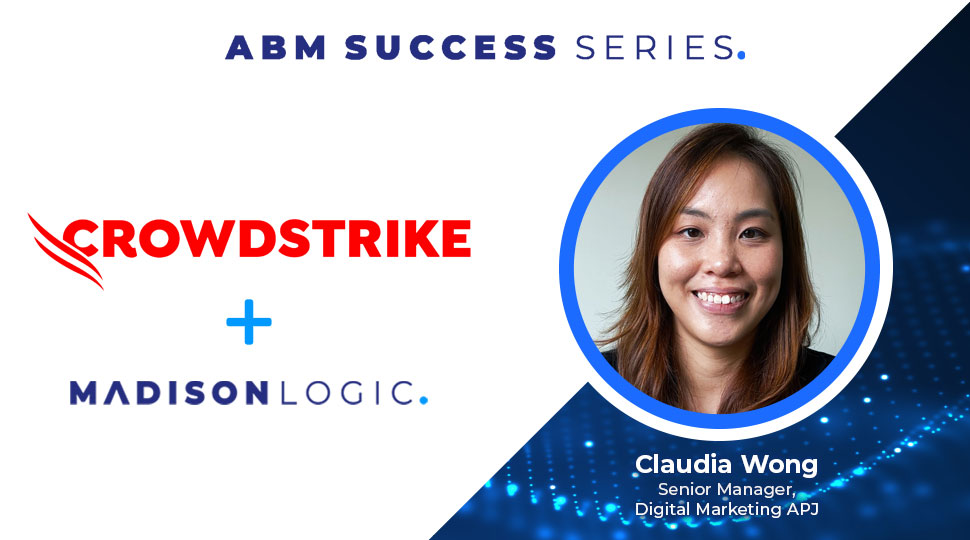 The Challenge
For CrowdStrike, the global cybersecurity pioneer of cloud-delivered endpoint protection, identifying and prioritizing the right buyers is paramount to their growth. As the Senior Manager, Digital Marketing APJ for CrowdStrike, Claudia Wong is responsible for driving growth in the Asia Pacific region through more targeted account-based marketing (ABM) efforts.
While CrowdStrike primarily serves verticals such as financial services, healthcare, pharmaceuticals, manufacturing, and the IT sector, the team needed access to better data to identify and prioritize the right personas and job titles within in-market accounts. By refining their audience targeting and uncovering key market opportunities, the team can focus on top-of-funnel contact lead acquisition and drive bigger deals.
"The biggest benefit of using ABM in our marketing strategy is we are able to kind of put our backs against our biggest bets. So really trying to rally the sales team, the marketing team, to really kind of focus on key accounts and key market opportunities to drive the biggest results."
The Solution
Claudia and her team leverage data-driven, multi-channel ABM to reach buying committee members in target accounts.
It all starts with ML Insights data, which unifies three sources of data to create a score of the accounts demonstrating the highest propensity to purchase. The team then uses this score to prioritize in-market accounts, know which personas to engage across the buying committee, and understand what content is most likely to convert.
With a better understanding of who to target, the team uses ABM Content Syndication to attract highly qualified contacts and gain valuable additional information for their sales teams. ABM Display Advertising then helps them surround these prospects with the message that they want to convey.
"Sometimes as brands, we want to go after certain segments, but with ML Insights, it opened a new kind of world for us to say, 'Hey, there's this other area that you might want to try going after and low-hanging fruits that we should take advantage of.' ML Insights really helps us in our planning and really gives us a forward-looking aspect to our marketing strategies, especially in the digital area."
The Results
By rallying the sales and marketing teams to focus on in-market accounts and key market opportunities, CrowdStrike has been able to drive significant results through a data-driven ABM strategy with Madison Logic. The team has achieved above benchmark lead-to-contact conversions and works with sales to nurture those leads to reach above benchmark pipeline.
Claudia credits Madison Logic for its data-led precision and speed to market for the growth and success she and her team have attained through their ABM efforts.
"We would definitely recommend Madison Logic for all account-based marketing. The team has been amazing. They have been flexible, transparent, as well as effective in their management of the campaigns, as well as the data quality that we get from these marketing campaigns. I can't speak highly enough of Madison Logic. It's been a great partnership for us."
---