These Account-Based Marketing Metrics Will Get You a Seat at the Table
Your CEO is demanding that marketing prove its worth. He's talking about click-through rates with a sort of skepticism. "Well, if that's all you have to show me," he seems to be saying. We know these numbers aren't what matter to the CEO, but they're the numbers we keep showing him.
CTR, CPC, CPL: this alphabet soup of metrics means very little to your CEO. So why have they been so important to marketing for so long? By feeding him a constant diet of such watery soup, we can never demonstrate actual success. We need to change.
B2B is from Mars; B2C is from Venus
Most of the metrics currently employed by b2b marketers come straight from the b2c playbook. But, trying to use them for a B2B program is like trying to put a hat on a horse – it simply doesn't fit.
B2B is strikingly different from B2C. The longer buying cycles, larger deals, lower volumes, and –most importantly—buying committees that can be composed of 5-12 individuals require a different set of metrics to define exactly what success is.
The Marketing Metrics your CEO Really Wants to Know
Your CEO's primary concern is revenue and growth. Lacking the ability to report on these, b2b marketers came up with proxy metrics that show data movement that could be correlated to pipeline. But that approach does nothing for Marketing's credibility in the organization.
For one, such numbers can't necessarily be trusted. Click-through rates (CTR) have nearly zero correlation with conversion. A famous stat from ComScore revealed that 16% of Internet users are responsible for 80% of clicks. What's more, no matter how detailed your CTR/CPL reports, none of these numbers correlate directly to pipeline, which is all your boss really cares about. Clearly, we need to move on.
Account based marketing ties your marketing efforts to pipeline, to conversion, to revenue. These are the numbers that will impress your CEO; they're the numbers that get you a seat at the grown-up's table.
All Marketing Metrics Should Point to One Thing
When implemented correctly, account based marketing is merely a framework for a set of discrete tactics that work together to directly impact pipeline. Each of these tactics apply to specific stage of the buying cycle and can be measured on their own. However, these tactics are just cogs in the account based marketing machine, they all have to do their job, but it's the ultimate output that really matters. When put into play against the same Account List, account based marketing should be measured by pipeline impact, and pipeline impact alone.
As an example, targeted advertising can be effectively deployed at the top of the funnel where brand awareness is essential. Here you need to monitor views, impressions, uniques, etc. Keep in mind however that your objectives and measurements must be tied to the account list for your program.
Middle of the funnel tactics like website engagement are best measured with average time on site, pageviews, average time on ad, again all considered at the account level.
Finally, as accounts proceed through the buying cycle, the tactic you want to use is lead generation. Here your natural metrics are conversion, pipeline, and deal velocity. Now, because you've been keeping an account level view at all metrics through the funnel, you will have a tied all your marketing efforts directly to the metric that matters to your CEO: the company's growth.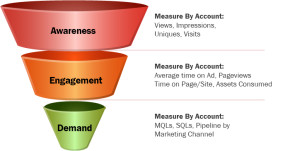 Reaping the Rewards of Account Based Marketing
With account based marketing in place, and actual revenue numbers coming out of the marketing department, your CEO will be able to appreciate the real impact that marketing has on growth. While you should measure your tactics as your ABM programs unspool, these numbers can only clot the real message. If traditional metrics are a watery soup for the CEO, revenue numbers are a hearty meal.
Bon appetit, boss.
To learn more about how best to measure account based marketing, download Madison Logic's whitepaper: Account Based Marketing: Targeting With Intent.
Be the first to know
Subscribe to receive the latest B2B marketing research, whitepapers, articles, infographics, ML news, and more.