Over at Demand Gen Report, Dimitri Lisitski of Infl2 has fired a shot across Madison Logic's bow. His article, Why Account-Based Marketing Has Failed – And How We Can Fix It, levels the accusation that "today's ABM is often less focused" than it was in the past. "Rather than personalized messages in a mailbox or inbox," he writes, "display advertising is targeted to the organization as a whole." Lisitski concedes that "some providers" claim to reach employees with specific titles or roles within an account, tacitly implying that this is not often the case.
The problem with Lisitski's article is that he posits an archaic version of account-based marketing. True, many of Madison Logic's competitors run targeted account-based marketing by identifying an account's IP address and serving ads to that address. But even the slowest-moving among them are shifting away from exclusively using IP; the use of demographic data is rapidly becoming de rigueur when it comes to targeted ABM.
In the article, Lisitski writes, "in order for ABM to deliver the results B2B marketers need to be successful, it needs to focus more on people within the business, rather than the 'account' as a whole." He says that marketers need more data to target specific people within organizations and to know that actions those people have taken. His error lies in assuming that this is an ongoing challenge, rather than a challenge that has already been resolved.
Madison Logic's ActivateABM™ uses intent data to identify those accounts that are actively researching products and solutions like yours, but –more granularly— it identifies the individuals at each account that are conducting that research. We can then serve those individuals a combination of hyper-relevant digital advertising and lead generation content that can quickly move those accounts through the pipeline.
Lisitski's article raises three challenges that Madison Logic meets head-on:
There is a lot of advertising budget wasted with ABM.
Lisitski is correct when he argues that traditional IP-targeted ABM creates a great deal of waste. He's also correct that targeting titles and roles can reduce that waste. However, what's expressed here is a fundamental misunderstanding of the buying committee. Recent CEB research shows us that the buying committee is now composed of more than 6 individuals who can have a variety of titles and come from completely different functional areas. Targeting exclusively in the way Lisitski suggests risks missing key decision makers. ActivateABM™, by contrast, both reduces waste and reaches the entirebuying committee.
How can you know if your ABM campaign worked?
Here again, Lititski seems to be hearkening to an archaic idea of what ABM is. He claims that there is no way to "confirm if any stakeholders have seen a single ad — unless a decision maker has engaged with an ad and completed some kind of conversion."
In the screenshot below, you can see how ActivateABM™ scrutinizes ad exposure in terms of duration. It tells you that your target accounts were exposed to your ads for 984 hours and 25 minutes. More importantly, it tells you that that ad exposure netted 306 visits from those same accounts. The lines in the graph depict the correlation between the two. More important than even this, ActivateABM™ tells you the number of visitors who have come to the site from each account (blurred out here). The higher that number, the more engaged the account.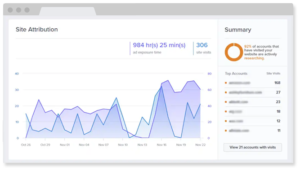 ABM is not actionable.
If you were looking for evidence that Lititski is hampered by an outmoded view of ABM, look no further than his metric for ABM success: "Even if your campaign is extremely successful and receives a lot of clicks… "(emphasis mine). Clicks! Even on a good day, an average B2B click-through rate hovers around .06% or .07%.
Now, I'm not going to bash those who click and engage with content. But that should not be the only measure of success. As you saw above, Madison Logic puts an emphasis on how an account is engaging with your ABM program. What accounts are seeing more of your ads, which ones are coming to your site most often. And because Madison Logic unifies digital advertising with content syndication, you have real, actionable information. What accounts are interacting most with your content; who is downloading that content? These are the things your sales team wants to know.
To his credit, Dmitri Lisitski is the co-founder and CEO of Influ2, which is a "person-based marketing" solution. His argument about reaching each individual with hyper-relevant content is good and accurate. But his fundamental misunderstanding about what great account-based marketing really is, exposes the flaws in his thesis. Account-based marketing has not failed. It doesn't need to be fixed. It just needs to be done right.
Be the first to know
Subscribe to receive the latest B2B marketing research, whitepapers, articles, infographics, ML news, and more.