Madison Logic Named a Leader in The Forrester Wave™: B2B Intent Data Providers, Q2 2023!
Blog
Introducing Journey Acceleration with LinkedIn Ads: Seamlessly Activate and Measure your Multi-Channel ABM strategy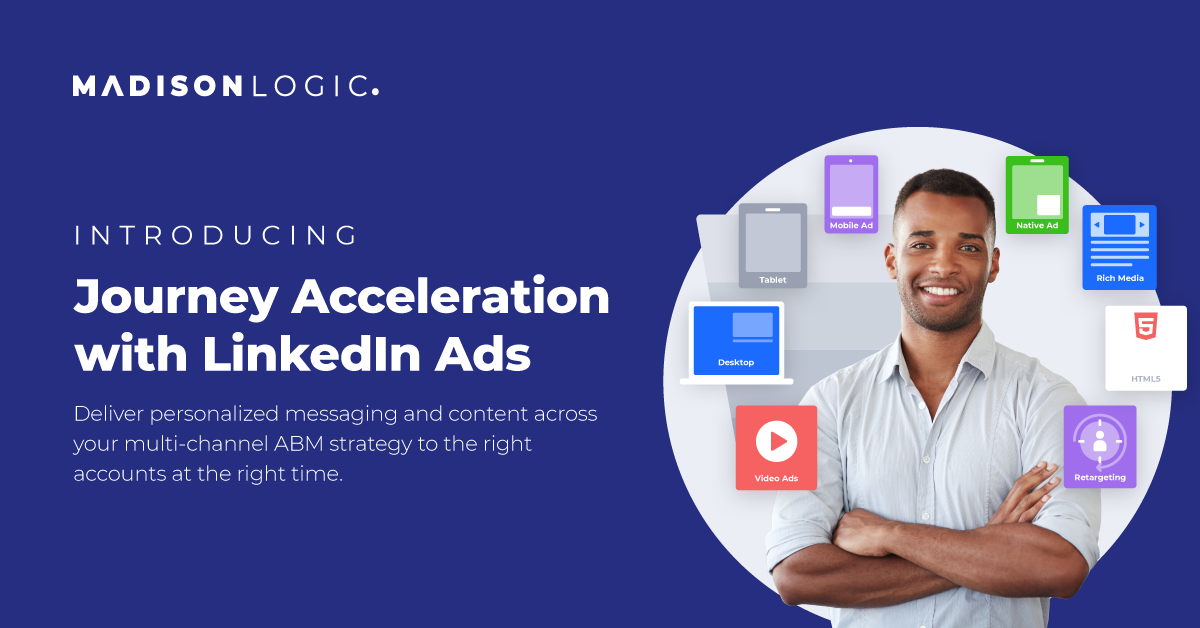 It's 2022. B2B marketers must engage prospective buyers with relevant content and advertising across multiple channels across individual members of a larger buying committee.
However, there's a problem: this audience researches solutions in many different areas. When marketers distribute content and advertising in siloed channels, there's no guarantee that your messaging is aligned across each channel. This potentially disjointed experience can make it challenging to grab the buyer's attention and control the conversation in the many stages of their journey.
You need a unified approach to targeting and campaign activation.
Today we're excited to announce Journey Acceleration with LinkedIn, which empowers you to activate the same target account lists across all your media channels, including LinkedIn. Now you can to dynamically personalize messaging and content across channels to accelerate the buying journey.
One target account list. Three channels. One unified platform.
Identify and Prioritize Your Target Accounts for LinkedIn
Every great ABM campaign starts with a prioritized target account list. However, many marketers use separate target account lists on each channel, creating missed opportunities to engage the same audience with the right message, regardless of where the buying committee is actively researching.
Enter ML Insights.
ML Insights, a unified signal of the companies most likely to convert, allows marketers to:
Identify in-market accounts

Prioritize the right individuals to engage within the account

Understand which content and advertising will move these buyers through the buyer's journey
Available within the ML Platform, marketers can confidently use ML Insights combined with data from your marketing automation and CRM platform to identify the in-market accounts to engage within your multi-channel ABM strategy.
With Journey Acceleration with LinkedIn, the new audience built from ML Insights is seamlessly pushed to LinkedIn Campaign Manager. You can keep a consistent message across your channels with your best accounts.
Cross-channel Orchestration of your Content and Advertising
Every B2B marketer creates content and advertising. But, engaging the buying committee with the right content requires your assets to be relevant for the account based on their stage in the buying process. When running content on multiple channels in your ABM campaign, these accounts need to receive coordinated messages across channels.
This challenge is a tremendous opportunity for marketers seeking a competitive edge.
Through our integration with LinkedIn, you can activate your multi-channel ABM strategy to dynamically personalize messaging and content across channels to accelerate the buying journey. Now, you can deliver personalized messaging and content on LinkedIn to maximize account engagement alongside ABM Content Syndication and ABM Display Advertising, including any of LinkedIn's supported ad formats including Video ads, Direct Messaging ads, and Sponsored Content.
By targeting the same accounts on all channels, your team has the control to send consistent messages to the most important and influential people interested in your solution.
Measure the Impact of Your Unified ABM Strategy
LinkedIn is a powerful business networking platform, and measuring the impact of your LinkedIn advertising is essential not only for your LinkedIn campaigns but also for your entire ABM strategy. So, it is critical to see and measure your LinkedIn advertising impact alongside your other ABM channels to gain a full view of the buyer's journey.
Marketers can create a unified view of their multi-channel campaigns, including LinkedIn ads for up to 10,000 accounts, to understand how an account progresses through the buyer's journey and what content drives the most engagement. This helps your team easily understand how accounts are progressing through their journey to effectively target the buying committee at each stage of the sales cycle and increase ROI through a unified view of your ABM strategy.
Use this information to influence customers further and faster through the buyer's journey and ensure that your messaging stays top-of-mind as they research and move through their evaluation process.
Transform to a Full-Funnel, Always-On Approach
Not every buyer is on the same path to purchasing your solution. For example, Account A may just be discovering who you are while Account B is reviewing a demo of your solution. Using a one-size-fits-all approach to your targeting and campaign strategy will leave you with missed opportunities, oversaturated buyers, and little return on your media investment.
Consider the benefits of making your multi-channel strategy a full-funnel, always-on approach so you can reach each contact with the nurturing path that will push them forward in the buyer's journey. We call this Journey Acceleration.
Here's how it works:
Madison Logic provides you with proprietary engagement data that helps build effective campaigns. By understanding how accounts across similar campaigns stay engaged, you can deliver the most relevant experience regardless of where they are in the buyer's journey.
Now, Account A in the discovery stage is served a LinkedIn ad that prompts them to drive awareness of the problem they may not know they have, successfully moving them to the next stage of the buyer's journey. Account B gets more relevant content and messaging to compare two vendors and validate the purchase decision.
Through Journey Acceleration, you know what content on which channel will move them forward. This insight enables you to accelerate the sales cycle through an activation strategy that delivers personalized messaging to the right contacts where and when they need it. Right message, at precisely the right time.
Madison Logic + LinkedIn: A Winning Combination
By running multi-channel ABM campaigns through LinkedIn and Madison Logic, marketers can influence engagement across the right set of accounts.
It's not about prioritizing one channel but unifying three key channels and converting to a full-funnel "always-on" approach.
You drive higher engagement and accelerate the sales cycle when you activate your content and advertising across multiple channels.
---