Are you targeting the right buyers? Download the State of the Buyer Report: Future of Work Edition.
EXPERT WEBINAR SERIES: Intent is Everything Q&A Session
[blocks layout="layout8″]
[block background="#ffffff" text_color="#595959″ rounded="false" shadow="false"]
On September 30, we presented the second webinar in our series on ABM, "Intent is Everything: How Intent Topics Drive Engagement and Maximize Marketing Impact."  Presenters Lori Wizdo, VP & Principal Analyst at Forrester Research, and Tom Koletas, SVP Advertising Programs at Madison Logic offered up their insights into how intent data can cut through a noisy marketplace to help B2B marketers find the customers who are already in market.
The webinar wrapped up as usual with a Q&A session, which generated a deeper dive into the topics discussed, such as identifying topics your customers and prospects are interested in so as to create content and messaging tailored to those topics.  You can view a synopsis of the Q&A session here.
[/block]
[block background="#ffffff" text_color="#999999″ rounded="true" shadow="true"]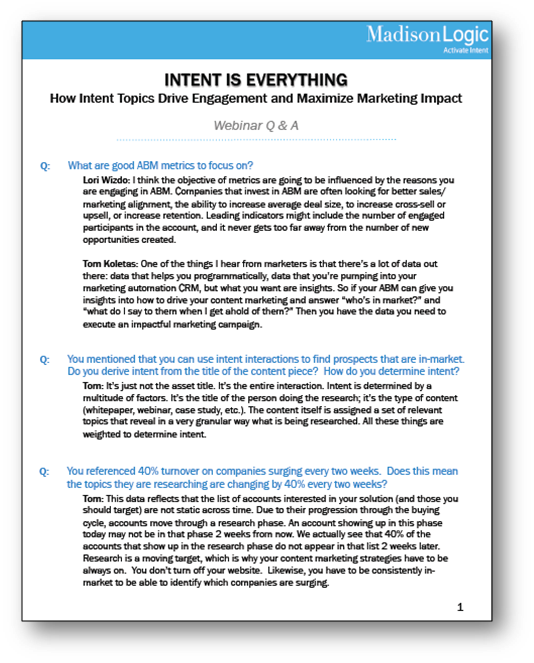 [/block]
[block background="#ffffff" text_color="#999999″ rounded="true" shadow="true"][/block]
[block background="#ffffff" text_color="#999999″ rounded="true" shadow="true"][/block]
[/blocks]