Madison Logic Named a Leader in The Forrester Wave™: B2B Intent Data Providers, Q2 2023!
Blog
Employee Spotlight: Nick Petrovich, Sr. Customer Success Manager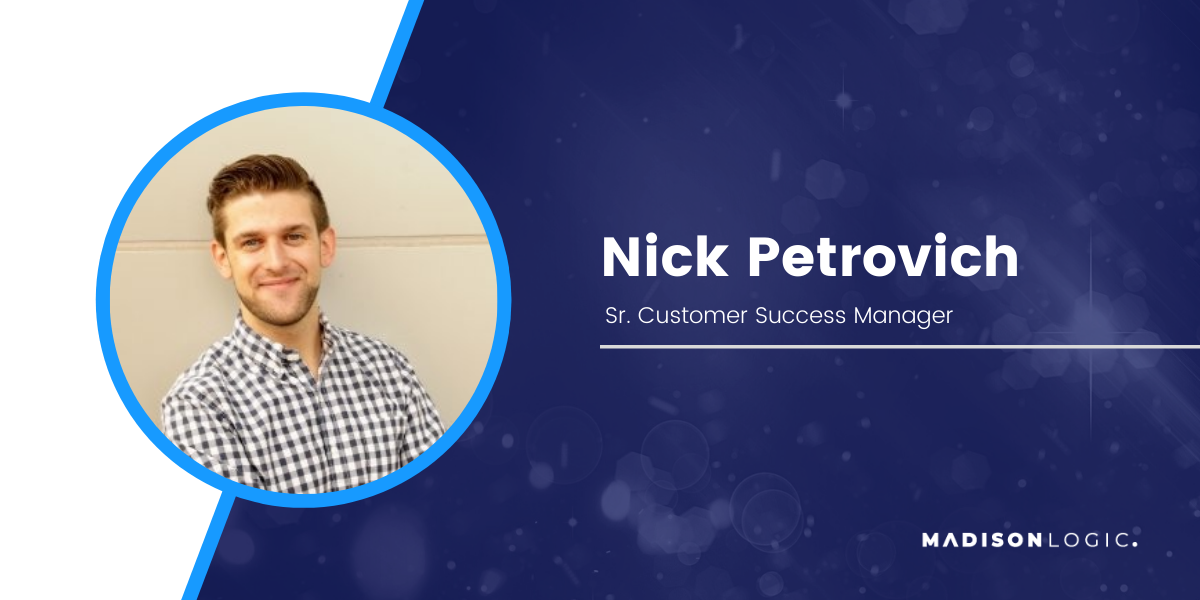 Nick Petrovich is a Sr. Customer Success Manager at Madison Logic. Nick shared his three years of experience working with the Customer Success & Campaign Operations team at Madison Logic's headquarters in New York City.
What initially drew you to Madison Logic and how did you know it was right for you?
Everyone has a story, and here is mine: I moved to New York without a job, so I was not a beggar looking to be choosey. I honestly didn't yet know what ABM was or who Madison Logic was. What I did know is that I had experience from working at a digital agency that would transfer well anywhere in Account Management (AM). Madison Logic's HR team was friendly and responsive. The AM team was delightful throughout the interview process, so even though I was unfamiliar with the product, I accepted because of the positive experience. (Plus, I really needed an income stat!) Turned out to be a great fit!
What was your first role at Madison Logic? How did that turn into the role you have today? Why do you stay at ML?
My first role 3 years ago was as an Account Manager specifically for the Display product, which sounds crazy now. The Account Management team has evolved a lot, including the creation of the Customer Success team of which I was one of the first members.
I stay at Madison Logic for two main reasons:
Over the past few years, Madison Logic has made huge strides in its product development. We have passionate and hard-working Product Managers and Engineers who work very well with all of our teams to satisfy our internal and customer requests. They're really open to constructive feedback and quick to execute.
The people! I have an inspiring manager who advocates for her team's growth, as well as my individual career growth. The colleagues I work with most-closely encourage each other to do great work, while also finding plenty of time to be complete goofs. Cross-functional teams all want to see each other be successful and are never afraid to get their hands dirty. Our company culture has gotten better and through my time here and has arguably grown even closer during the stay-at-home orders due to COVID-19. We have Slack channels for sharing recipes/photos of our culinary creations, questions of the day, Zoom Trivia, wine tasting happy hours, etc. all remote but all together.
What characteristics does someone need to be successful with this company?
The people I've seen do best and grow quickly at Madison Logic are those that ask a lot of questions. They self-start and identify opportunities for change with a fresh set of eyes that rather than taking the mindset of 'this is how things have always been done." Our technology and product is evolving on the daily, so an openness to change is essential.
How did you and your team get to know each other? What is your favorite part about your team and why?
While I could say we get to know each other through happy hours, volunteer events, annual Sales Kickoffs, or other awesome Madison Logic organized events, I think my team best gets to know each other through the day in and day out of our jobs. We see how we respond to big customer wins and recognition, how we each communicate with our internal and external stakeholders, how we alleviate stress, how we celebrate one another's accomplishments or special occasions. My favorite part about this team is knowing that if I am feeling stressed or down, I have them immediately ready to support me with a laugh or a walk. And I am there for them too. It's a very comfortable, familial support system.
Madison Logic is growing! Check out our careers page for more information.
---