Madison Logic Named a Leader in The Forrester Wave™: B2B Intent Data Providers, Q2 2023!
How to Drive Higher Engagement with a Data-Led ABM Strategy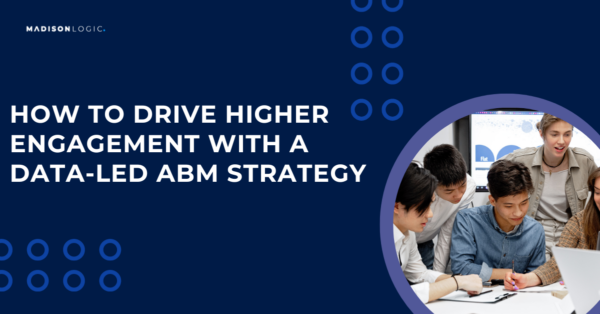 With a strategic approach that focuses on personalized marketing efforts tailored to individual accounts, account-based marketing (ABM) is the answer to delivering impactful campaigns that build stronger relationships and drive targeted revenue growth. Leverage multiple data sources to create a more comprehensive view of the buying committee and each member's role in the decision-making process. Only then can you personalize your content and messaging and address everyone's needs.
This guide highlights and puts into practice the data sources and tactics necessary to create personalized experiences through ABM that you can use to convert your best accounts faster.
Download this guide to:
Learn how data insights help you identify the accounts and personas you need to target

Uncover approaches to crafting highly personalized content and messages tailored to individual target accounts and personas

Gain valuable insights leveraging performance insights to optimize your strategy
While data plays a critical role in creating effective ABM strategies, it can be hard to decipher the true signals from the noise.
There's a lot of data out there, and it can be a real challenge to figure out how to turn all that data into useful and actionable insights.
Use this guide to amplify your efforts with a systematic approach that combines data-driven insights with personalized outreach efforts. We'll help you understand what data sources you need and how to apply them for smarter strategies that achieve concrete outcomes.