Madison Logic Named a Leader in The Forrester Wave™: B2B Intent Data Providers, Q2 2023!
Case Study
ContinuumCloud Increases Campaign Impact and Efficiency with Data-Driven ABM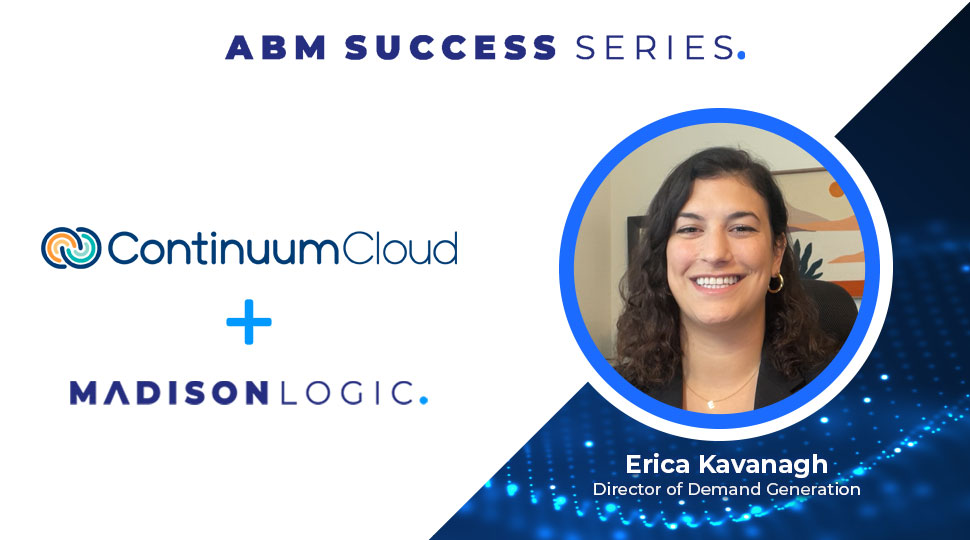 The Challenge
Effective account-based marketing is all about identifying the right accounts and buying committee personas, activating a unified multi-channel strategy, and measuring and optimizing your approach in real time.
For Erica Kavanagh, Director of Demand Generation at ContinuumCloud, finding target accounts and personalizing messaging and content across the channels they visit the most is key to accelerating the buying cycle. As the leading provider of cloud-based software solutions specifically designed to meet the unique needs of the behavioral health and human services, ContinuumCloud empowers organizations across a variety of industries to provide high-quality care and deliver on their mission. Erica and her team needed an ABM partner to help them activate data-driven campaigns and provide the expertise and guidance to ensure that their programs are impactful and efficient for their business.
The Solution
Madison Logic has helped Erica develop and optimize a more effective full-funnel ABM strategy. It all starts with ML Insights, which the team uses to identify and prioritize the accounts that matter most, and then engage them across multiple channels to accelerate the buyer's journey. This data includes account reach, account engagement, contact and lead generation, and buying intent for their target account list, which they then push through Pardot into Salesforce, which allows them to score contacts and inform their sales teams of surging intent for their top priority accounts.
With a better understanding of who to target and which content and messaging to use to engage them, Erica and her team activated a multi-channel strategy through ABM Content Syndication and ABM Social Advertising with LinkedIn Ads to provide a consistent messaging that helps guide key decision-makers through the funnel. This targeted approach through the LinkedIn integration with the ML Platform has helped Erica extend their reach and account penetration, as well as overall engagement to accelerate pipeline velocity.
Finally, Erica and her team use the reporting data provided by Madison Logic to inform their sales teams of surging intent for our top priority accounts. This has produced better alignment with sales and makes outreach easier knowing the accounts they're engaging have a higher probability of converting to an opportunity.
"The biggest benefit of using ABM in our marketing strategy at ContinuumCloud is the alignment between sales and marketing, as well as limiting the resource leakage of our campaigns so they are the most impactful and efficient for the organization."
The Results
Erica believes the data she gains from Madison Logic is foundational to her team's success. Leveraging ML Insights, the team is able to create account lists that prioritize their outreach based on signals of intent and see what assets yields the highest conversion. This has allowed them to extend their reach and have a consistent approach across all channels and refine their resource allocation for the most impactful and efficient campaigns. Furthermore, Madison Logic's dedicated customer support team has contributed to the ContinuumCloud marketing team's success, ensuring their programs are efficient and impactful.
With the help of Madison Logic, the team has increased their average campaign influence by 10% and limited the average cost-revenue ratio for new business opportunities generated by 60%.
"I would definitely recommend Madison Logic to businesses that operate an account-based marketing strategy. Leveraging Madison Logic is a great way to extend your reach and have a consistent approach to all your programs across channels and refine your resource allocation for the most impactful and efficient campaigns."
---