Are you targeting the right buyers? Download the State of the Buyer Report: Future of Work Edition.
Where Healthcare and Technology Intersect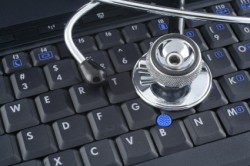 In the last several years, as healthcare costs have skyrocketed and the political debate about healthcare legislation has grown more heated, Americans have begun to take a much more active role in the management of their own health. No longer does personal healthcare mean annual checkups and daily vitamins; now, consumers are taking any number of proactive steps to maintain their health, from diet and workout trends to holistic care, and they are taking advantage of emerging technology to do it.
Wearables such as fitness bands, smart watches and digital glasses are the shiniest new examples of healthcare technology, but this space is most certainly still in its infancy. Beyond self-care applications such as weight loss and sleep analysis, many advances are being made in wearables that can aid both patients and physicians to monitor and treat more serious health concerns. New digital hearing aids, blood pressure monitors, prosthetics and other medical devices are being driven by constant innovation and significant ongoing demand from the market, which has resulted in digital solutions that have enabled better research into emerging treatment fields like gene therapy and neuroscience.
Wearables are most often linked to smartphone apps, especially those meant for patient self-care, especially since apps are going to continue to play a significant role for both patients and healthcare providers. As Huffington Post contributor Lisa Serwin points out, apps, as well as phone features like audio and HD video, will enable patients to receive remote care such as screenings, diagnostics and consultations via their mobile devices. This could reduce strain on physicians' time and attention, as well as healthcare costs at the patient and insurer levels.
Innovation in digital healthcare can also help open up opportunities in new and developing markets. PM Live notes that the global healthcare ecosystem is constantly challenged by factors such as aging populations and chronic diseases, and providers are always seeking new revenue streams and ways to increase efficiencies without sacrificing patient care.
Technologies like mobile phones have already made an impact on the ability of patients to receive preventative care and information and examinations via video in India, creating new opportunities in this and other global markets. Handheld devices and digitized patient information databases have also improved doctors' ability to treat patients more efficiently and effectively.
In terms of improved patient care and advancements in medical research and treatment of disease, we're at an exciting period in the evolution of healthcare, and the opportunities are there for healthcare marketers as well. Sarah Swidron, contributor for Medical Marketing and Media, notes that healthcare marketers can make up for decreasing face time with doctors by engaging with them via mobile devices and digital apps.
Whether marketing to patients or physicians, one thing is true: data is the key to engaging audiences that have been slower to adopt technology for this application and who may be wary of the privacy implications. Data should be used as it is in any other space – to find target audiences no matter the device they are using and to serve them relevant, compelling messaging at the point most likely to drive a sale.
A recent Pew study found that 71 percent of physicians use Google to look for health information, and many report using their mobile devices and tablets to access drug information, use clinical reference tools and conduct research. For healthcare marketers, this is as close to a captive audience as they're likely to get during a doctor's busy workday, so it is imperative that they use timely, high quality intent data to guide customized ad strategies that will capture their attention.
It might be weight loss, or disease treatment, or chronic condition management, the cost of healthcare or the legislation of it, but healthcare is a topic on the minds of many adults. Technology has become not only a tool of the trade, but a driver of its evolution as well. Technology has enabled better patient care in general, but it has also enabled deeper research and created opportunities for healthcare marketers throughout the landscape.
Image via jfcherry
Be the first to know
Subscribe to receive the latest B2B marketing research, whitepapers, articles, infographics, ML news, and more.