Madison Logic Named a Leader in The Forrester Wave™: B2B Intent Data Providers, Q2 2023!
Blog
Using Digital Channels with Precision: Why LinkedIn is Pivotal in a Full-Funnel, Multi-Channel ABM Strategy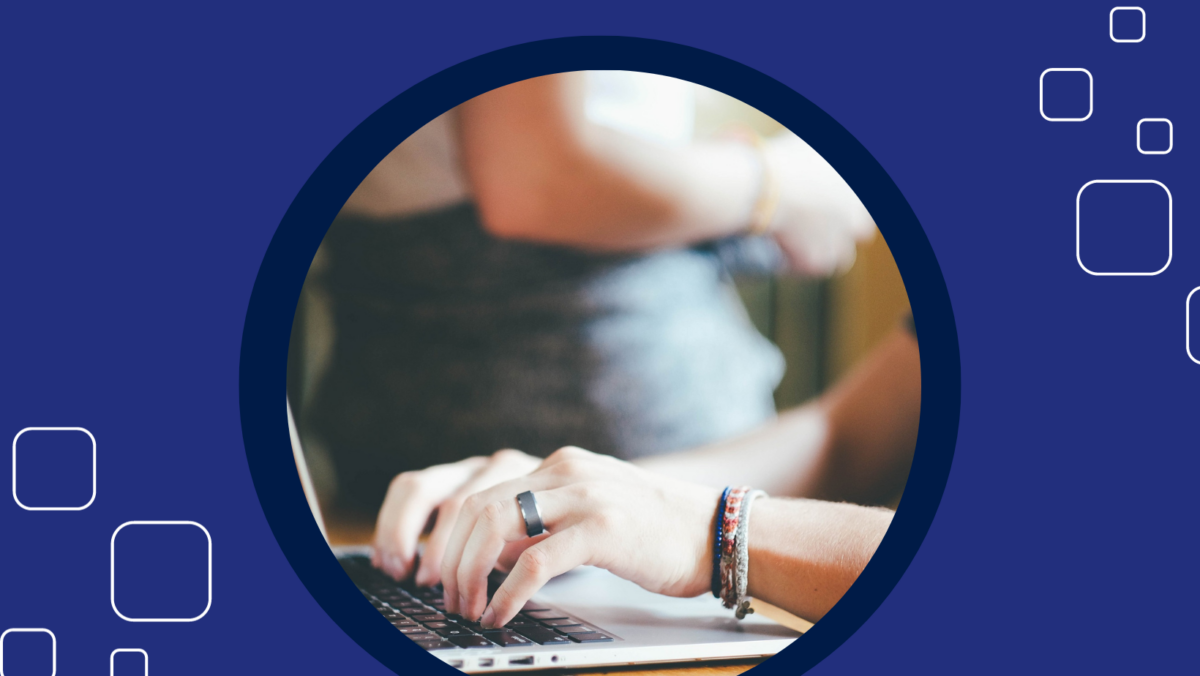 We hate to break it to you, but only a small percentage of B2B buyers are actively seeking solutions at any given time.
According to LinkedIn's 95/5 rule, only 5% of your target accounts are in-market, which means that 95% of accounts aren't ready to buy just yet. While it's important to invest in efforts that target the 5% of people who are "in-market" today, you need a full-funnel strategy that delivers persistent messaging with the other 95% as well.
Creating awareness and trust with the 95% of buyers not ready to buy requires a long-term approach that focuses on building relationships and establishing trust for your brand. Activating full-funnel, multi-channel account-based marketing (ABM) campaigns on social media alongside other key media channels like content syndication, display advertising, and connected TV (CTV) does just that. By targeting the same accounts with the same content and messaging across the channels your target audience spends their time on most, you keep your brand top-of-mind for accounts when they're ready to purchase.
Here's where social comes in. LinkedIn is a B2B marketing powerhouse, but it's also a core pillar in a more effective ABM. When used in a full-funnel, multi-channel ABM strategy, marketers drive higher campaign conversions and gain more clarity to understand pipeline impact and return on investment (ROI).
Big claim, but we'll show you how. In article three of our "Using Digital Channels with Precision" series, we delve into the key benefits of leveraging LinkedIn advertising as part of a full-funnel, multi-channel strategy and why it's so pivotal to your ABM campaign success.
Activating Multi-Channel, Full-Funnel ABM with LinkedIn
In our first article of this series, we discuss why multi-channel ABM helps you meet and influence buying committee members where they are with a persistent, cohesive, and personalized experience. This comprehensive and unified data-driven approach accelerates the sales pipeline and helps convert your best accounts faster. While traditional marketing and ABM strategies target buyers with disjointed information and content, a full-funnel, multi-channel ABM strategy delivers a unified and consistent personalized experience across all digital touch points. Faced with elongated sales cycles and multiple decision-makers, brands need every opportunity they can get to influence a buying group's decision.
LinkedIn's scale and ubiquity make it a compelling platform for B2B marketers, but its true value happens when it's combined with a multi-channel ABM strategy. To do this, you must fight the urge to separate your tactics and channels by aligning your social objectives and ABM objectives. With this collaboration, you deliver coordinated content and messaging that surrounds all buying committee members.
You can start this collaboration and activate full-funnel, multi-channel ABM campaigns by integrating LinkedIn into your existing ABM platform. For example, integrating LinkedIn with the ML Platform allows you to leverage the power of ML Insights to identify the accounts most likely to convert, engage them with a personalized cross-channel experience, and measure the impact of your multi-channel efforts in one place to optimize your strategies accordingly. And creating and maintaining a persistent and personalized customer experience helps you be where customers are in the buying journey to win their trust and loyalty.

The Benefits of LinkedIn in Multi-Channel ABM
Now that we've covered why and how to activate multi-channel ABM with LinkedIn, let's dive deeper into the three key benefits of leveraging LinkedIn in your strategy.
Maximize your marketing dollars
Being asked to do more with less means that every dollar spent on your marketing efforts must yield measurable results. ABM campaigns often fail to meet goals because you're going after the wrong audience. After all, ABM is all about targeting specific buying committee members with relevant and personalized content. But you need data to understand who these buyers are.
By integrating LinkedIn Ads with the ML Platform, you can use your first-party data and the comprehensive and proprietary ML Insights dataset to identify and prioritize the accounts most likely to purchase from you, create an informed target account list, and push it to Matched Audiences in LinkedIn Ads.
LinkedIn provides the greatest accuracy in demographic data like industries, company sizes, job functions, and job titles so you can target the right contacts at the right accounts. Furthermore, using the same target account list created with ML Insights across channels maintains a consistent cohesive strategy to influence buying groups. This ensures that your LinkedIn Ads budget is maximized by staying in front of the accounts that matter.
Drive higher engagement
Tasked with large purchase decisions, B2B buyers require a personalized and persistent experience across the buying journey. Achieving this yields accelerated purchase decisions and higher conversion rates across the sales cycle. Creating that long-term persistent presence works through an always-on, multi-channel ABM strategy. Including LinkedIn in your full-funnel, always-on strategy helps you own the experience on the largest B2B social network and deliver more dynamic ads directly where your target accounts will see them.
Sequential content and messaging through the buying journey brings higher engagement and a persistent experience buyers need in a multi-channel approach. The key is to bring all your channels together based on a full-funnel strategy, which looks something like this: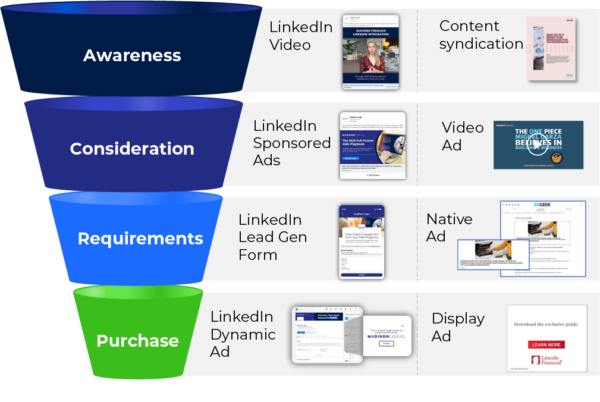 Use several types of LinkedIn ads that complement your other campaign activities and dynamically serve the most relevant content and advertising to target accounts across channels. Additionally, through the ML Platform integration with LinkedIn, you can also monitor account engagement to identify cold accounts, and then reengage them using LinkedIn Ads. This not only enables you to stay top-of-mind, but LinkedIn's accurate user profiles help guarantee that you reach the right contacts within those accounts.
Validate pipeline impact and marketing ROI
Measuring multi-channel helps you learn exactly how your accounts move through the sales cycle and how your content and messaging perform against defined goals. And by actively tracking metrics and using data to inform decision-making, you can more easily identify optimization opportunities in real-time. Always optimizing and staying agile with ABM yields better campaign results and revenue growth from your target accounts.
An important but often overlooked benefit of leveraging LinkedIn in your multi-channel ABM strategy is the visibility and data derived from the platform. Measuring the impact of your LinkedIn advertising is essential not only for your LinkedIn campaigns, but also for your entire ABM strategy. Here, think of LinkedIn as one piece of a larger puzzle and you need that piece to fully understand your campaign and its impact to your pipeline and ROI.
The ML Platform integration with LinkedIn provides you with multi-channel engagement metrics and the impact of an account's experience on your pipeline in one spot. Connecting your target account list with LinkedIn and the ML Platform provides visibility into how up to 10,000 accounts engage with your LinkedIn ads. Metrics like these allow you to spot consumption trends, pinpoint those highly engaged personas, and measure the activity of multiple touch points. This visibility ensures that social advertising spending can be optimized for maximum impact.
Experience the Full Potential of Your Multi-Channel ABM Strategy with LinkedIn
Not every account on your list is in-market, but you have to be there for them when they are. Buyers need you to be persistent and present in the market, so leveraging LinkedIn in a multi-channel ABM strategy is not just an option—it's a strategic imperative. Through a unified message and value propositions, you keep your brand top-of-mind for accounts when they're ready to purchase.
With LinkedIn Ads and the Madison Logic integration, you can maximize your budget on the accounts most likely to convert across all key channels, deliver a personalized and consistent buyer experience across touch points to improve engagement and visualize account progression in each campaign.
Looking for more guidance on LinkedIn? Check out the links below:
---