Madison Logic Named a Leader in The Forrester Wave™: B2B Intent Data Providers, Q2 2023!
Blog
Using Digital Channels with Precision: How Connected TV Fits Into Your Multi-Channel ABM Strategy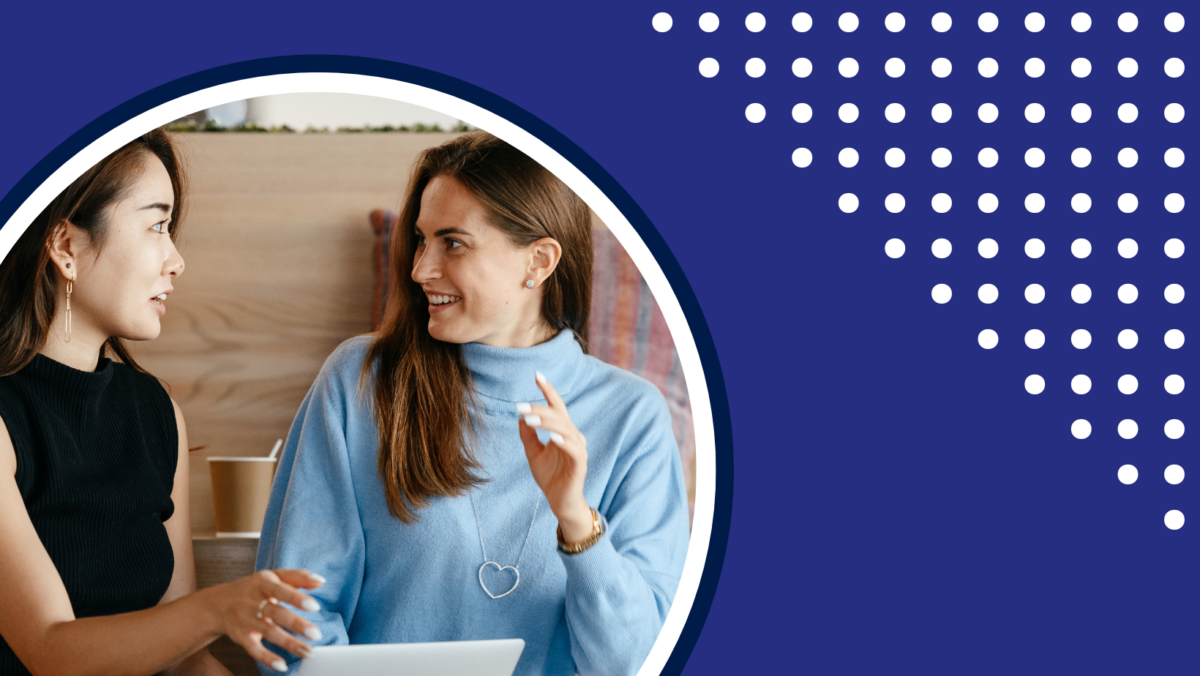 As more buyers work from home and utilize digital channels for a self-driven buying experience, Connected TV (CTV)—which includes Smart TV's and other devices that allow brands to reach their audiences through internet targeting—has emerged as a compelling choice for B2B marketers seeking to enhance their multi-channel ABM strategy.
And with good reason. CTV is now the fastest-growing digital ad channel. Nearly half of all U.S. homes already watch CTV every day. With that number expected to grow to 87% by 2025, CTV enables brands to create a stronger connection with target buyers by being present where they are.
In the fifth and final article in our "Using Digital Channels with Precision" blog series, we'll discuss why CTV is such an important emerging channel and how to best leverage it in your data-driven, multi-channel ABM approach.
Why CTV is Changing the ABM Game
The buying journey is complex, unpredictable, and digitally driven from start to finish. You compete for the attention of entire accounts with multiple decision-makers seeking a compelling solution for their business needs. Gartner indicates that sales reps have just 5% of a customer's time in the B2B buying journey, leaving it up to marketers like you to convey the solution story and secure buy-in from the entire buying committee.
Adding to that, research shows that 90% of buyers ultimately report choosing a solution provider from their day one list. This makes it even more critical for a brand to be top-of-mind among target accounts before they initiate the buying process. Focusing solely on an individual digital marketing channel or approaching campaigns without a unified strategy is no longer a viable option to succeed. You must maintain a digital presence across multiple channels and surround all buying committee members with personalized content and messaging to remain relevant during the decision-making process.
When integrated into an always-on awareness campaign alongside other channels in a unified multichannel approach, CTV allows you to deliver consistent and cohesive content and messaging to reach prospects before they begin the buying process.
Here's how that looks: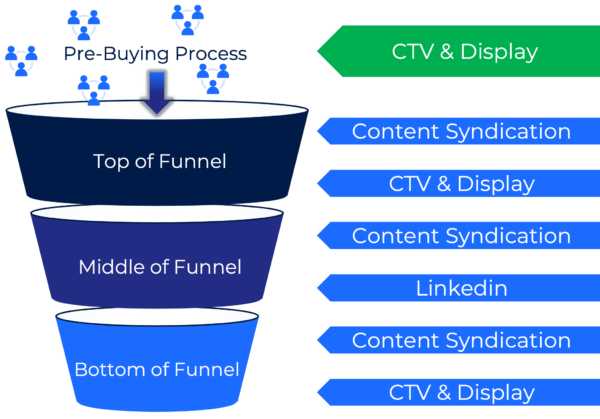 Leveraging CTV as part of your data-driven, multi-channel ABM strategy accelerates the buying journey from awareness to demand conversion by reaching accounts faster with multiple touch points. This access to buying committee members in the early phase of the decision-making process ensures higher brand recollection when they're making their day one list.
ABM Connected TV Advertising with Madison Logic: A Better Approach to CTV Ads
Until now, the limitations on CTV targeting, engagement, and measurement have prevented B2B marketers from realizing the channel's full potential. While brands have typically used CTV to drive awareness, it's not historically delivered the precise targeting and audience match rates to measure engagement and link to demand and ABM marketing campaigns.
ABM Connected TV changes that.
The addition of CTV into the ML Platform makes Madison Logic the first and only ABM solution to unify the four primary paid B2B channels — content syndication, display advertising, social advertising with LinkedIn and now CTV — into a centralized platform. This enables enterprise marketers to activate multichannel ABM campaigns and achieve comprehensive visibility into program performance. With targeting capabilities fueled by our intent data, we empower enterprise marketers from today's fastest growing companies to identify in-market accounts, drive higher awareness, and maximize their media investment.
Let's take a look at how we do it:
Precise Targeting at the Individual Level
One significant benefit of CTV advertising is that it uses IP addresses instead of third-party cookies to target users. As advertising on the web and mobile becomes more difficult due to cookie deprecation and increase in user privacy laws, CTV is expected to grow in popularity as more marketers shift funds to it.
Yet, how to harness these targeting capabilities to maximize the power of CTV continues to remain an industry concern. With the vast amount of intent data available, it can be hard to decipher the true signals from the noise. CTV is only impactful if you're reaching the right decision-makers for your solution.
ML Insights takes the guesswork out of which accounts are worth selling to. Our industry-leading intent data helps B2B marketers prioritize in-market accounts, know which personas to engage across the buying committee, and understand what content is most likely to convert. Knowing when an account is ready to buy empowers you to take immediate action and drive higher ROI. When used in a unified multi-channel approach that includes ABM Connected TV, ML Insights allows you to activate the same target account list across your entire strategy, ensuring you're reaching the right audience with the right content and messaging at the right time.
Recognized for the strength of our data through persistent customer praise and leading analyst accolades, ML Insights improves CTV performance with enhanced targeting delivering market-leading 95+% account match rates.
Unlock Unified Multi-Channel ABM
As CTV continues to gain momentum and enable opportunities to better target and reach buyers, IAB reports that more than a third of video buyers cite multiple challenges with CTV around cross-platform campaign activation and management.
Disjointed strategies across siloed channels waste marketing efforts and yield minimal buyer engagement. A full-funnel, multi-channel ABM approach that integrates these siloed channels—including CTV—into a unified approach that delivers consistent content and messaging based on where the prospect is in the buyer's journey is the only way to stay top-of-mind among today's more discerning buyers.
As the sole ABM solution unifying the four primary channels B2B buyers use most within the centralized ML Platform, Madison Logic empowers you to activate comprehensive full-funnel, multi-channel ABM campaigns that gain complete visibility into program performance. Fueled by ML Insights, our unified ABM approach ensures your content and messaging aligns with the trending topics your target customers are researching and helps you build in-depth experiences by tailoring content to funnel stages.
Adding ABM Connected TV to your current multi-channel ABM strategy enhances the personalized buyer experience by surrounding key decision makers with video content aligned that speaks to their specific pain-points and needs.
Clearly Measure Engagement
While CTV wields significant digital power, measuring its pipeline impact and ROI has been challenging due to various measurement techniques, cross-device and media measurement complexities, and intricate device identification. Furthermore, IAB finds that video buyers most often cite sales lift as their ideal KPI for CTV, but they are not leveraging it due to measurement complexity, sub-par tool functionality, and data lags. As CTV continues to grow and become a more prevalently used channel, you need more precise measurement to not only understand its value but also identify areas for improvement and optimization.
Madison Logic ABM Connected TV allows you to truly measure the impact of CTV engagement for the first time ever. By utilizing the same target account list across all channels, ML Measurement uncovers each account's most effective channels, content, and advertising. This provides you with a more accurate picture of the buyer's journey and a more thorough understanding of engagement and pipeline impact. It's not just about how well CTV is working; we look at how the entire multi-channel strategy is performing.
Instead of focusing on vanity metrics like per-account CTV impressions, per-asset impressions, and exposure time, we focus on data points that help drive improvements over time. This could be the changes in pipeline volume, velocity, and the measurable value an account provides—all of which can only be determined through the birds-eye unified campaign view the ML Platform provides. These insights allow you to take a data-driven approach to campaign optimization that generates more revenue from target accounts, improves the ROI of your marketing efforts and increases win rates through more relevant and personalized marketing content for your target accounts.
The Future of Multi-Channel ABM Is Here—Are you Ready?
As you continue to navigate the complex and ever-evolving B2B buying landscape there's one fact you can no longer risk ignoring: CTV is a necessary addition to your unified multi-channel ABM strategy.
With its enhanced targeting, unified activation, and clear measurement capabilities, Madison Logic's ABM Connected TV truly harnesses the power of this exciting new channel and a game-changer in driving awareness and higher engagement for your target accounts. Embrace it to secure your place in the minds of your buyers from the very beginning of their journey. Request a demo today!
Join Our New Virtual Event to Learn How to Take Your ABM Strategy to the Next Level with ABM Connected TV!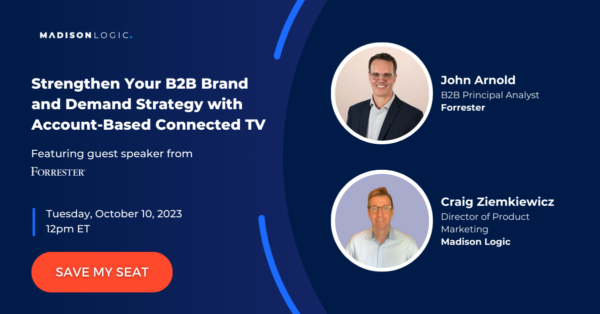 Getting in front of in-market accounts is crucial for revenue-focused marketers looking to build pipeline. But what if you could secure your spot on a buyer's shortlist before they enter the buying cycle? CTV provides an opportunity to get in front of decision-makers at the top of the funnel before they begin the buying process to ensure you stay top-of-mind from day one.
In this virtual event, Craig Ziemkiewicz, Director of Product Marketing at Madison Logic with special guest, John Arnold, B2B Principal Analyst at Forrester, will discuss how to leverage CTV advertising to accelerate B2B brand building and demand generation strategies.
Join us to hear:
Why a holistic B2B brand and demand strategy is important
What CTV is, how to use it effectively, and the best ways to target and reach B2B audiences through streaming devices
How to measure CTV advertising programs for both brand and demand
Register and learn how you can seamlessly combine your brand, demand and ABM programs to drive awareness, build pipeline, and generate ROI.
---