Madison Logic Named a Leader in The Forrester Wave™: B2B Intent Data Providers, Q2 2023!
Blog
It's More than Just a Strategy, It's a Game-Changer. The Five Benefits of ABM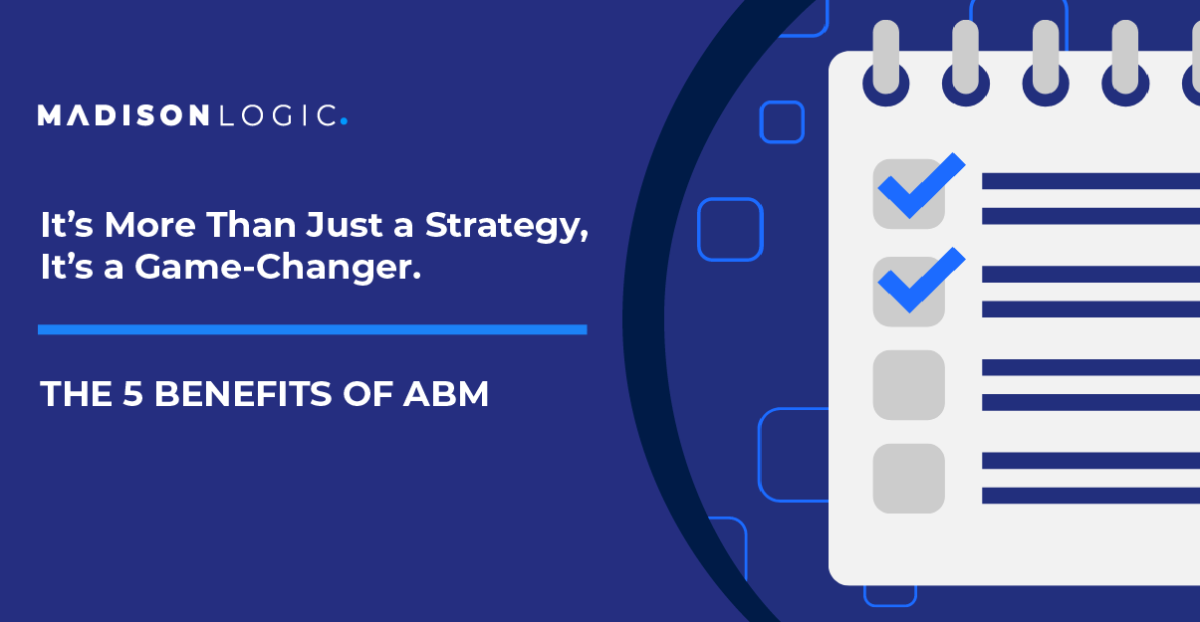 Account-based marketing (ABM) is no longer a strategy that marketers can ignore.
And yet, so many marketers still struggle with implementing it. While ABM is not a new practice, ITSMA research finds that 50% of ABM programs are in the expanding or embedding stages, which tells us that marketers are still working through some growing pains when launching their ABM campaigns.
So why is ABM important? Because the benefits far outweigh the challenges. By leveraging data to focus your efforts on the accounts with the highest propensity to purchase, you can provide your target audiences with more personalized experiences and convert them to customers faster.
Let's take a closer look at the benefits of ABM and how it can change the game for you in 2023.
1. ABM guides you through an effective campaign strategy
Marketing is both an art and a science. Content needs to elicit emotion from your audience, but it also needs to take your audience where they need to go on the map to choose you as their solution provider. Without knowing your audience and their buyer's journey, B2B marketing can feel erratic and responsive and won't lead to many closed deals for your sales team.
Account-based marketing takes a more holistic and personalized approach to the buyer's journey based on account attributes and intelligence through data. When you conduct ABM strategies, you're putting your desired customer first, and thinking through what they need to move through their buyer's journey. Data helps you understand a few key points about your target accounts, including:
What they're looking for. Buyer intent data and purchase signals help you pinpoint key topic searches so you can tailor your content and messaging to match.

What they're engaging with. Engagement data reveals the most effective content assets that your target accounts are engaging with and the value they place on each piece through the buyer's journey.

Which technology stacks they have. Install base or technographic data confirms the technology they use in their business.
With strong data, you can effectively put together a map of what they need and build your content and messaging around it. This takes the guesswork and erratic-ness out of marketing and allows you to be predictive and prescriptive.
Data + Content = Personalization
This enables you and your teams to deliver the right message, to the right audience, at the right time to get from the first touch to that closed deal faster.
2. ABM helps you reach the entire buying committee
There are many ways to differentiate B2B from B2C, but one of the most important aspects of B2B is the fact that there is more than one decision-maker on your target accounts. Back in the day, most businesses designated one person to explore solutions and make purchase decisions for an entire company. But as businesses evolved and technology touched more than one role, they needed to add more people to create what is now called "the buying committee." Understanding this fact is key to successful ABM.
Each member of the buying committee has their own goals
On average, there are 6-10 decision-makers on a buying committee that has their pain points, needs, and issues to solve when they're researching new solutions. A 2022 G2 Software Buyer Behavior Report also finds that 71% of buyers said that additional stakeholders are always or frequently added throughout the buying journey. With new and existing members, these buying committees spend a large amount of time individually exploring content and getting to know solution providers. When it comes to the final purchase decision, the committee must be on the same page and able to defend their choice of a solution to reach an agreement.
You need to engage with each member of the buying committee
Research finds that each buying committee member is armed with 4-5 pieces of information they've gathered independently and must deconflict with the group. When you focus on one individual decision-maker and build that relationship with them only, you miss the opportunity to gain the support of other members, which lengthens the sales cycle further. Each member of the buying committee needs to know who you are and what your solution impact would be on their business problem. You need to build a relationship with an entire account and speak to the entire account, which is where ABM shines. Use ABM to involve and engage with all these decision-makers on the account level at the start to provide more value to the account and accelerate these buyers through your sales pipeline faster.
3. ABM fosters collaboration across your departments and teams
It's important to get ABM right. As a strategy that marketers use to target high-value accounts, it requires personalizing the buying journey instead of marketing with a one-size-fits-all approach. That's why marketers should use all the resources available to understand who their best-fit accounts are. Working with other teams gives you that full picture and fills in the account-level customer behavior gaps that marketing may miss. Without this cross-departmental collaboration, your ABM will not be effective.
Talk to your sales teams
Your sales teams have daily conversations with current and prospective accounts. They can be a resource to help you identify whom you can target for higher ROI and pipeline impact. In the later stages of the sales cycle, they see how your content and messaging affect purchase decisions first-hand. They can also tell you common characteristics between your prospects and won accounts, gauging the potential for contract values.
A mistake that most marketers make is not using sales insights to build, execute, and monitor their ABM strategies. Sales and marketing misalignment is a massive problem in ABM, with 90% of sales and marketing professionals reporting challenges in their organizations' strategy, process, culture, and content due to misalignment. Set regular meetings to discuss goals, create strategies, align on what prospects and customers need to invest, and plan the content and resources required to succeed.
Don't forget to converse with your customer success teams
B2B customers want to trust and believe in your solution for their problem. Your customer success teams are excellent resources to understand what you can do better to create an exceptional customer experience. They are the first source customers go to with questions and concerns, and they help customers achieve their goals and objectives.
When you're targeting new logos, your customer success team can give you insights into what current customers like the most about your solution, or what they think you should promote the most about your solution. When you're working to retain, cross-sell, or upsell current customer accounts, your customer success team needs your help with content that maintains your brand's relationship.
Technology is your friend to connect important marketing tools like marketing automation platforms to pipeline tools like customer relationship management systems. These integrations can help you tie your marketing influence on actual revenue and pipeline results.
4. ABM accelerates the buyer's journey and shortens the sales cycle
More than 54% of B2B buyers take less than 90 days for larger purchase decisions of $20K or more, so it's clear that the buying committee takes some time to understand the ins and outs of a solution to their problem. G2 also finds that 85% of decisions can take as long as 6 months, lengthening the sales cycle even more.
And that's just for the groups that are in-market for a solution like yours. According to LinkedIn Marketing Solutions, only 5% of B2B accounts you're targeting are in-market for your solution; the other 95% are either not yet in-market or are simply not ready to buy.
Regardless of whether accounts are in-market or not, your job as a marketer is to:
Show these accounts that they have a problem to solve.
Prove that your solution can solve their problem.
Convince these accounts it's urgent to solve their problem compared to doing nothing.
When done correctly, your ABM campaign can be prescriptive and relevant to every one of these points, leading the accounts seamlessly through their buyer's journey and into your sales pipeline.
5. ABM increases your marketing ROI and sales pipeline value
Ask any marketing professional and they'll say that proving ROI is tough. Making the task more difficult, non-ABM, traditional marketing strategies often consist of casting a wide net and hoping to catch a big fish. Often this approach results in smaller fish that don't bring much ROI.
With ABM, you engage the most qualified accounts based on your ideal customer profiles and data, so you're not wasting time and precious resources. When you focus on these high-value accounts and invest in the relationship over time, they're more likely to enjoy your brand and solution and trust you. This leads to increased deal value, ROI, and customer lifetime value. ABM is all about that customer experience and instilling trust and loyalty in your brand, and when done right, you can watch your ROI and sales pipeline value grow.
Ready to change your game?
ABM is here to stay, and today's marketers need to consider it for their marketing plans going forward.
2021 was once described as the "year of ABM" with adoption rates reaching over 70% according to Hubspot's State of Marketing report. 2022 pushed this bar further with the "Year of Smarter ABM". How will 2023 shape out?
Only time will tell, but know that we're here to help! Reach out today to speak to our experts about starting your ABM on the right foot with a personalized ML Insights Market Opportunity Report to uncover and understand your best accounts!
---