Are you targeting the right buyers? Download the State of the Buyer Report: Future of Work Edition.
The State of Programmatic in 2015: New Benefits and Ongoing Challenges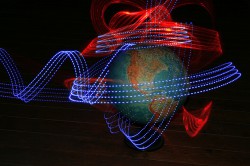 For the last few years, programmatic media buying—the use of technology and data to automate the media buying and ad targeting process—has been helping marketers expand the reach and scale of their campaigns without sacrificing targeting accuracy. The growth of programmatic has been on a steep upward trend—US advertisers will spend $14.88 billion on programmatic display advertising, a 47.9 percent increase over the previous year, according to a recent eMarketer report.
As Ben Plomion writes in LBBOnline.com, video capabilities, premium inventory and the availability of viewability metrics have been the primary drivers of that growth, not to mention the improvements in ROI and waste reduction that programmatic can provide. However, that is not to say that the road to widespread adoption of programmatic has been free of obstacles, or that all of those obstacles have been overcome.
Programmatic is, after all, a nascent technology, relatively speaking, and it still suffers from a lack of trust, in both the quality of the inventory and the platform's ability to accurately target and measure audiences. Though the benefits of programmatic are many, those trust issues are not entirely unfounded. As Lauren Moores notes in a recent iMedia Connection article, fragmentation of data and devices has made it difficult to track consumers as they move between devices and channels, which results in programmatic platforms running on incomplete and inaccurate audience insights.
According to Ad Age, the inherent "fuzziness" in the pricing schemes for programmatic platforms is also a major stumbling block for advertisers who might be wary of jumping on the bandwagon:
"When media-agency networks secure digital inventory using programmatic platforms and use it for clients' campaigns, for example, those clients often have no idea how much the ads cost in the first place. They just know what they are billed." 
Ad Age mentions that marketers may not be interested in the pricing of their inventory. Rather, they weigh return against the total investment, but, in some cases reported by agency auditors, markup on programmatic inventory has been as high as 400 percent. That is cost that certainly can add up, and it's in marketers' best interests to have as much transparency as possible into their ad inventory both for content monitoring purposes and to ensure they are getting their money's worth.
So what is the impact of all of this on the B2B market?
The short answer is: better targeting and better measurement. The slightly longer answer is that programmatic has allowed B2B marketers to target key audiences across channels with relevant messaging, using sophisticated data analytics to derive insight into purchasing patterns, needs and intent. And, as Choozle CEO Andrew Fischer told Business2Community, "today's programmatic solutions enable B2B marketers to test and evaluate multiple digital channels at a scale and with an efficiency that's simply never been available."
Many industry insiders agree that 2015 is poised to be a game changing year for programmatic, as transparency increases and premium inventory becomes more available, and more brands adopt programmatic platforms. Not to mention, innovations and new technologies are emerging from every corner of the industry and all over the globe.
An interesting point about programmatic innovation on a global scale is how the size and scope of a market can impact its ability to innovate and effect change. In a recent article for The Drum, Marco Bertozzi, VivaKi's president of global clients, compared his experiences in the U.S. and European programmatic markets. He notes that the sheer scale and complexity of the U.S. market has meant that big budget advertisers and their agencies have been focusing on how programmatic can enable targeted messaging on a massive scale. Those budgets have driven innovation, research and testing on a macro level that has shaped how U.S. advertisers use programmatic technology.
On the other hand, the European market comprises more small-medium advertisers with budgets that may be smaller, but Bertozzi believes that very fact actually drives more strategic innovation that enables EMEA advertisers to optimize at the campaign-level and make the most of their programmatic investment. He also points out that a smaller market is a more agile market, and that the digital advertising ecosystem in Europe and the UK has been able to implement industrywide changes to technology standards and best practices much faster than the U.S..
What's clear at this point in the evolution of programmatic is that advertisers on both sides of the pond are increasingly realizing the benefits and promise of programmatic technology and are demanding continued innovation to meet their specific needs, so we shouldn't expect the pace of growth to slow down anytime soon. With digital technology's best brains from multiple continents on the job, we should expect exciting new developments in this and the coming years. In fact, Bertozzi sums up both the vibrant current state and the promising future of programmatic thusly:
"One continent awe-inspiring in scale and opportunity. One continent agile and swift. Operating in parallel? Formidable."
Image via Михаил Чуркин
Be the first to know
Subscribe to receive the latest B2B marketing research, whitepapers, articles, infographics, ML news, and more.