The Secret of Cross-Device Sequencing
Let me ask you a question. Are you reading this post on your phone? My guess is that at least 35% of you are reading this on a smartphone; a smaller percentage are using a tablet; the rest of you are sitting at your computer. Whatever the case, my point is that in any business professionals' day-to-day, they're juggling all sorts of devices and engaging in all manner of activities: texting, emailing, and –most importantly for the B2B marketer– consuming content.
Smartphones, Tablets, and Laptops… Oh, My!
The idea of cross-device targeting is not new. Widely used in B2C circles, the idea is that a brand can target an individual on every device they use, keeping the brand top-of-mind whether that individual is idly reading the news while waiting for a cup of coffee, or sitting down with the laptop for some serious research.
It's a smart strategy, allowing marketers to create ads uniquely crafted for each device. The ad a prospect sees on a mobile device will –and should– be distinctly different from the one displayed on the laptop.
Every Device is Different
Indeed, B2B marketers who want to make the most memorable ads will recognize the different platforms and take advantage of how users interact differently on them. For example, rich media formats such as video tend to spark engagement and promote a higher level of engagement with a target audience.
Innovoid's Interactive Video 2015 Benchmark Report found that interactive video user engagement on mobile is more than double that of a desktop. Additionally, the study found that where desktop ads resulted in a negligible 0.4% CTR, mobile garnered a surprising 9.4% CTR.
This doesn't necessarily mean that ad formats such as rich media should be confined to specific platforms. Your choice of format depends largely upon your strategy for a given campaign.
Display Ads and Brand Awareness
After all, the goal of display for a B2B marketer isn't clicks, it's brand awareness. At Madison Logic, we have seen that display has a profound effect on brand awareness. The longer an account is exposed to your creative, the more individuals from that account tend to visit your site.
You don't have to take my word for it. I have data. Take a look at the Site Attribution panel in Madison Logic's Activate ABM™ platform. Here you can see the correlation between exposure time and site visits. As exposure time rises, so do site visits. Madison Logic tracks this by dropping a pixel on our client's site, allowing us to provide full attribution between the two engagements. This display also shows you the accounts that are most visiting your site.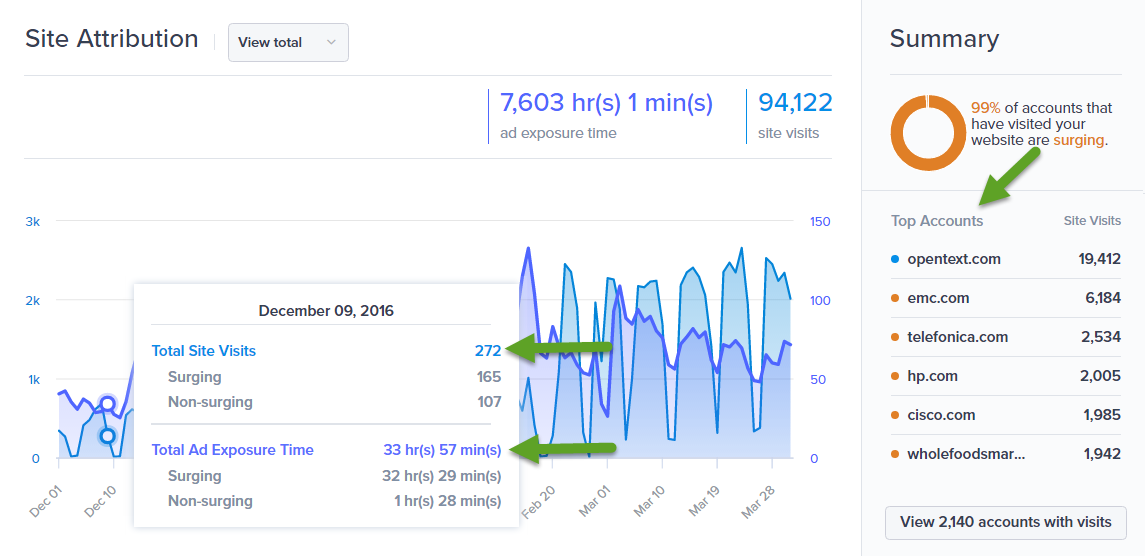 These aren't necessarily clicks. In fact, most of these visits are organic, stemming from a search engine or a URL typed directly into a browser. To sum all this up, even in 2017, display remains a powerful tool for branding.
The question now is, how can you make your ads more memorable?
What Time is It? Cross-Device Sequencing
As I said above, B2B pros tend to use different devices at different times of the day: smartphones/tablets in the morning, desktops/laptops during the workday, and smartphones/tablets in the evening. A cross-device strategy will enable you to veritably surround a user with your message wherever and whenever they are using these devices.
So, let's consider another tactic here, dayparting.
Dayparting allows a B2B marketer to divide a day into discrete segments, allowing them to apply their display spend to the devices where their prospects are most likely spending their time at a specific time of the day. There's little purpose in buying laptop/desktop inventory at 6:00 am when 61% of your prospects use their smartphones in the bathroom.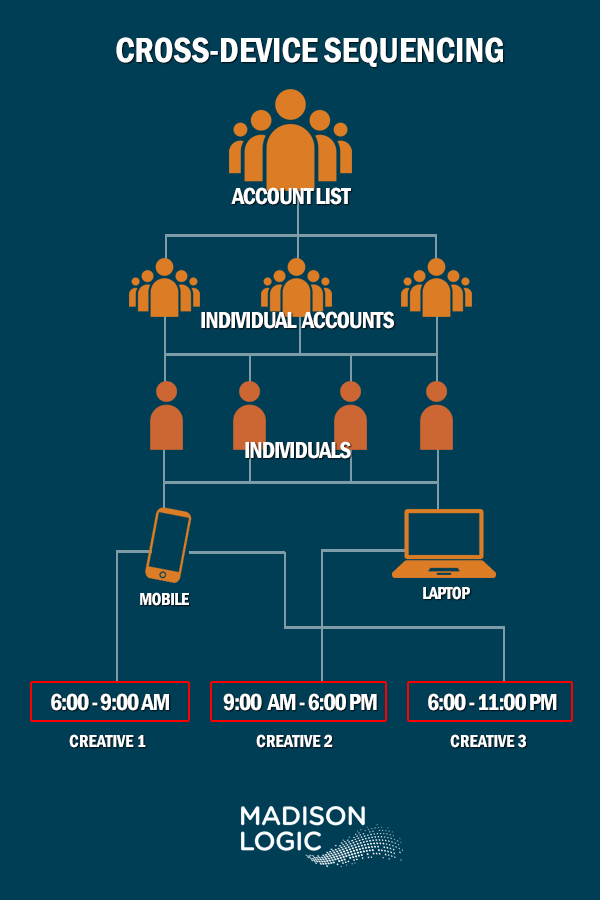 Even more than helping allocate dollars to the best platform, dayparting presents an opportunity to create ads that are far more memorable due to the fact they happen in sequence. Each creative can be part of a story, dripped across devices, at the right time in a single day. It's one thing to engage a prospect throughout the day with a unified message. It's still another to put sequential messages into a linear whole. This would be truly memorable.
One Step Beyond
Cross-device sequencing is a sophisticated tactic for branding, but for today's B2B marketer branding is only a part of the practice. Madison Logic recommends combining display advertising with an equally sophisticated lead generation campaign. The unification of the two tactics drive both awareness and leads, creating the real ROI that affirms your overall strategy.
Image Courtesy: Luke Wroblewski
---
Want to know more about cross-device sequencing? Give Madison Logic a shout and we'll be happy to help.
Be the first to know
Subscribe to receive the latest B2B marketing research, whitepapers, articles, infographics, ML news, and more.