Are you targeting the right buyers? Download the State of the Buyer Report: Future of Work Edition.
Revelations From the 2015 HIMSS Conference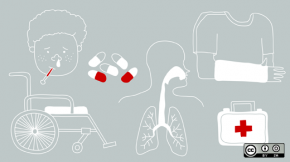 The top discussion topics from this week's Healthcare Information and Management Systems Society (HIMSS) stemmed mainly from the results of the 26th Annual HIMSS Leadership Survey, released at the conference.
Key findings from the study all seem to be pointing toward the same conclusion: the field of healthcare technology has come a long way in its short duration, but has yet to overcome several important challenges.
Of course, this is not unexpected; every nascent industry has its growing pains, but a key finding from the study—that a mere 38 percent of U.S. hospitals and health systems surveyed "indicated that population health tools were in place in their organization"—makes it clear that the pressure is on both the healthcare and technology players involved to collaborate to answer the demands of the market.
Unfortunately, the survey also indicated that electronic medical record (EMR) data sharing between disparate vendor platforms, geographically dispersed facilities and unassociated medical institutions remains at a virtual standstill despite billions invested in the development of technology for their use.
Conference speakers laid blame for the lack of interoperability between vendors at the feet of the vendors themselves, claiming that they purposefully block sharing in order to corner their respective markets. This may make those vendors money in the short term, but it will ultimately stunt and slow the growth of the industry over the long-term.
The news from the conference was not all dire, however. As we've discussed here before, mobile technology is an important area of growth for healthcare IT, and results of the 2015 HIMSS Mobile Technology Survey revealed that healthcare organizations are widely beginning to deploy mobile health technologies with the aim of engaging patients within their organizations. In fact, 90 percent of respondents are currently doing so. More than 70 percent of provider employee participants utilize app-enabled portals to engage patients and cut costs, which 36 percent believe to be the most effective patient engagement tool.
Though 51 percent of respondents reported that their organization was able to leverage technology to coordinate or impact patient care in at least one of the areas provided in the study, only 18 percent indicated their mobile technology environment was "highly mature." With the current rate of investment in mobile IT, however, I expect that percentage will be significantly higher in next year's survey.
And speaking of investment, perhaps the most inspiring part of the conference is the pitch competition during the Venture+ Forum, in which 15 vetted companies gave three-minute presentations with the aim of securing investors. TowerView Health, a Philadelphia-based company whose pre-filled smart pillboxes alert patients when they forget to take doses, won first place. TeleHealthRobotics, a Chicago-based startup that provides Tele-Robotic Ultrasound for Distance Imaging kiosks through which off-site physicians administer ultrasounds and Medivizor, a subscription service that provides personalized health information and updates to patients, tied for second place.
Though, overall, the takeaway from this year's event is that there is still a ways to go before healthcare IT is mature enough to become standard across the healthcare system, if innovations like those showcased are anything to judge by, the talent and vision needed to make it happen is there in spades.
Image via opensource.com
Be the first to know
Subscribe to receive the latest B2B marketing research, whitepapers, articles, infographics, ML news, and more.