Marketing Automation, Retargeting and New Data Opportunities
Posted by Eric Wittlake, B2B Digital Marketing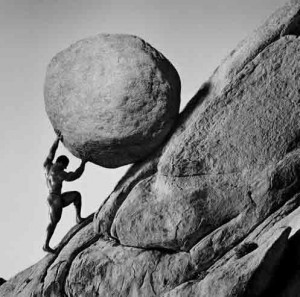 Your marketing will never be good enough. If your marketing
is the best in your industry today, it is time to push even harder. If you pause, even briefly, someone else will pass you by.
Today, one of the areas that holds the most potential for improvement is data. Not only is more data available today than ever before, there are more ways to put information into action for more effective marketing. Here are just two applications for new B2B marketing data.
Improving Marketing Automation
Six months ago, I wrote about why your marketing automation is falling short. One of the core challenges is marketing automation is driven by activity on your website and in your own emails, however the vast majority of a buyer's time is not spent on your site or with your content.
What if you could fill in part of that gap? What if you knew the kind of content your prospects were reading on other sites? What if you knew they were still actively researching, even though they were not on your site?
If you had this information and made good use of it, would your marketing automation be more effective? Yes, it would.
Retargeting with Scale
Retargeting is consistently one of the best performing display advertising tactics. A report from Recrue showed retargeting buys via ad networks delivered 270% higher click rates and 5150% high conversion rates than other ad network buys.
For most B2B marketers, the biggest problem with retargeting is scale. As marketers invest more in retargeting, most are simply increasing frequency against the limited set of visitors coming to their site.
In order to scale retargeting programs effectively, marketers need to identify other individuals appropriate for inclusion in an extended retargeting campaign.
If you can increase the size of the audience for your retargeting campaigns, you can scale one of the most cost effective advertising tactics in your arsenal.
Today's Data Opportunities
Today B2B marketers have a number of new opportunities to drive marketing automation and scale retargeting programs. From purchasing data about content your prospects consume on other sites to using company or CRM retargeting, B2B marketers have access to a wide range of new data and tools that can improve these programs.
To learn more about some of the new options B2B marketers have, join Erik Matlick, CEO of Madison Logic, and me for a webinar this Thursday at 12:30 PM Eastern Standard Time.
Update: You can view the webinar here:
Eric shares B2B marketing insights on his blog, B2B Digital Marketing, where he covers a range of topics in B2B marketing, social media, analytics and advertising, through B2B marketing and digital marketing lenses.
Be the first to know
Subscribe to receive the latest B2B marketing research, whitepapers, articles, infographics, ML news, and more.