Are you targeting the right buyers? Download the State of the Buyer Report: Future of Work Edition.
Madison Logic Celebrates Year of Rapid Growth With Awards From Inc., Crain's NY and AlwaysOn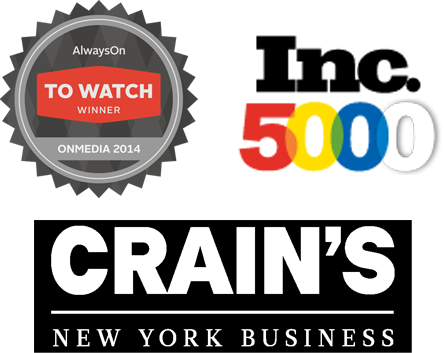 NEW YORK, NY–(Marketwired – Oct 28, 2014) – Madison Logic, the premier provider of intent data solutions for B2B marketers and publishers, today announced it has received three prestigious industry accolades highlighting the company's steep growth trajectory. For the second year, the company has been recognized on the 2014 Inc. 500|5000 list as one of the nation's top 5,000 fastest growing businesses. Additionally, Madison Logic has been named one of the fastest growing companies in New York City on Crain's New York's annual Fast 50 list and as one of AlwaysOn's OnMedia 50 Companies to Watch.
"We are delighted and humbled to be honored by these prestigious industry lists," said Madison Logic CEO Erik Matlick. "Our exciting momentum has been driven by our clients' success using our Powered by Intent data products, including the Content Consumption Monitoring program. Intent data is the key to engaging B2B audiences and our clients have enjoyed excellent campaign results that encouraged them to keep coming back. We look forward to continuing on this growth path by offering the best B2B audience insights available."
Inc. magazine ranked Madison Logic 1,591 on its eighth annual list, which represents the most comprehensive look at the most important segment of the economy — America's independent entrepreneurs. Madison Logic was in the top 31 percent of the 5000 company list and joins Microsoft, Oracle and GoPro, among other prominent brands featured in previous lists. Madison Logic was also named 35 in the Crain's New York Fast 50 Companies list and as one of AlwaysOn's OnMedia 50 Companies to Watch.
Q2 2014 revenue numbers show a 34 percent increase over Q1 2014, and Q3-Q4 projections are tracking on the same upward climb. The Q3 2014 generated revenue had experienced a 59 percent increase over the previous year, and a 73 percent growth from the previous quarter.
Madison Logic's Content Consumption Monitoring Program (CCM) aggregates rich intent data that provides segments that produce less opt-outs, higher performance and a better user experience. The company dynamically tracks more than 1,900 topics, giving B2B marketers scalable insights into their customer base, driving scoring, display and sales alerts.
About Madison Logic
Headquartered in the U.S., Madison Logic is the premier provider of intent data solutions for 1,000+ of the world's leading B2B marketers and publishers. The company's Content Consumption Monitoring technology provides intelligent lead cultivation and monetization that ensures B2B brands are able to maximize the value of the leads they cultivate from acquisition to loyal customers. Madison Logic's technology also empowers premium publishers to more efficiently monetize their businesses. With solutions driven by intent data, business buyers receive messages relevant to every stage of their journey to purchase. Today, more than 600 of the top B2B marketers depend on Madison Logic to maximize the reach, efficiency, effectiveness, engagement and insights delivered by their campaigns. The company maintains long-term partnerships with a highly refined base of 450 premium B2B publishers, who rely on Madison Logic to help them drive audience growth and greater revenue. Madison Logic is a global company based in New York City. It is privately funded and profitable. www.madisonlogic.com@madisonlogic
Be the first to know
Subscribe to receive the latest B2B marketing research, whitepapers, articles, infographics, ML news, and more.