In-depth ABM: What it means to get inside of opportunity and why it's important
This article by Madison Logic's Chief Product Officer, Sonjoy Ganguly, originally appeared on MarTech Today.
---
The consensus sale is critical, and marketers now understand that their greatest successes come from a broader account-based focus, rather than an individual-contact-based approach.
To optimize for this reality, you need to change how you measure performance and rate your success, while also adopting new tactics to impact that success. You must focus on simultaneously influencing different interests and deciders, based on their pain points, to stimulate consensus.
Influencing a single, isolated stakeholder will never allow you to penetrate and sustain a foothold within an account. Your success metrics should reflect a buying committee that's persuaded and aligned.
Journeys vs. moments
Traditional time-boxed marketing programs are static in nature. They are designed to target a group of individuals or companies at a specific moment.
A more fluid approach will help marketing and sales determine, in real time, which accounts they should be engaging when and why.
Account-based nurturing
Traditional marketing automation solutions are designed to nurture individual known contacts in your ecosystem. But an account-based solution will help you increase engagement with the entire account.
To some degree, this is a continuation of your consensus build, and it is critical to broadening your exposure within the accounts sales is already engaging.
When you see specific individuals increasing engagement with your content, you need to be able to simultaneously increase engagement with more individuals at those prospective accounts. Doing this will increase the velocity of opportunities through the funnel.
Personalized, thoughtfully timed content assets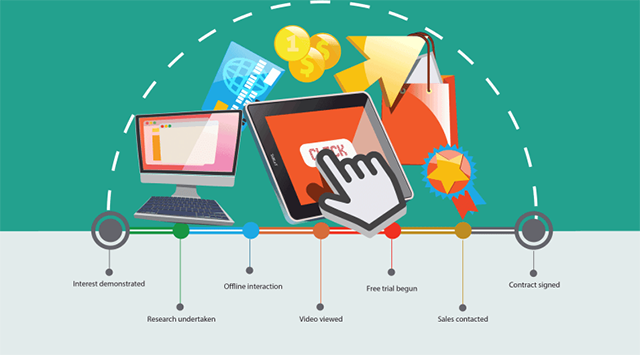 To be successful, you must monitor opportunities and determine when it's time to broaden your exposure with a business-relevant message. Look at the account's previous content engagement and/or opportunity stage and use that information to deliver specific, relevant information at key moments.
In this way, you can provide a more engaging experience, which ultimately moves opportunities toward revenue faster and more efficiently.
All of this is part of developing and capitalizing upon the more nuanced understanding of opportunity that fuels a serious ABM strategy.
To recap, this involves:
Rising above the mere transaction.
Leaning into committees and decider dynamics.
Thinking about full journeys rather than isolated moments.
Wholly embracing nurturing at an account level.
These approaches can round out your appreciation and understanding of any given opportunity and make the likelihood of full account success much more probable.
Be the first to know
Subscribe to receive the latest B2B marketing research, whitepapers, articles, infographics, ML news, and more.