Madison Logic Named a Leader in The Forrester Wave™: B2B Intent Data Providers, Q2 2023!
Blog
C-Suite Executives Are Researching Collaboration Solutions More as Businesses Continue to Seek Ways to Manage Remote and Hybrid Workforces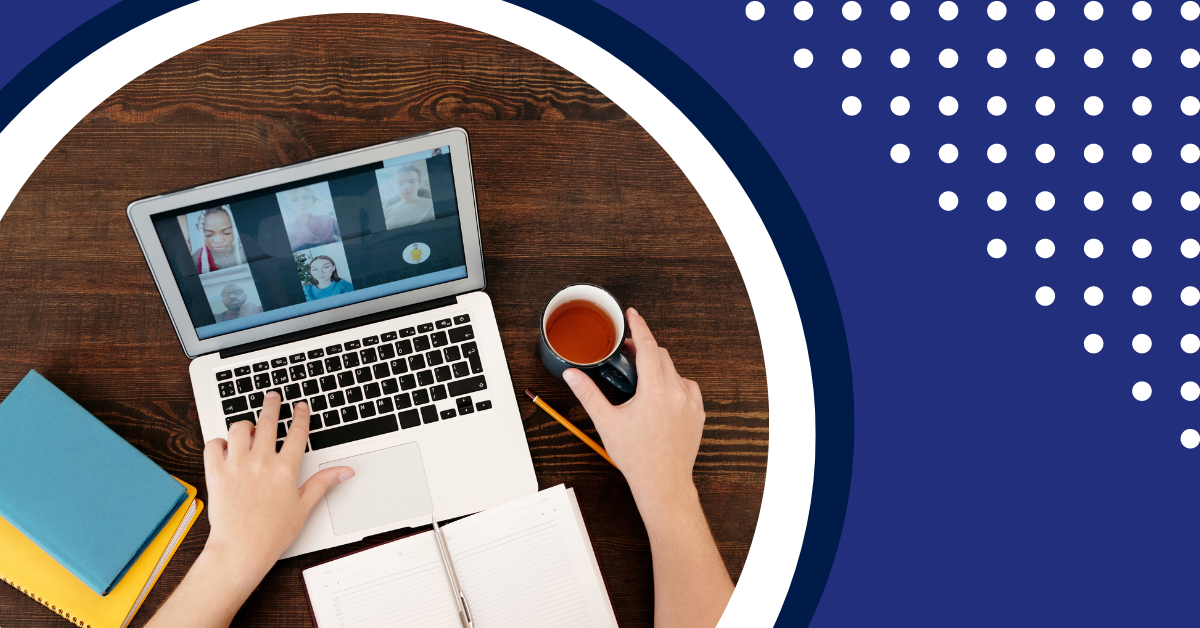 Remote and hybrid work models are here to stay thanks to the effects of the COVID-19 pandemic. A recent survey from employment and labor law firm Littler found that 71% of U.S. employers currently operate hybrid work arrangements in 2023, with just 16% of surveyed companies requiring in-person work.
As companies adjust to this shift, collaboration software solutions are essential for improving productivity and fostering alignment between remote teams. The collaboration software market reached $26.28 billion in 2022 and is projected to reach $55.60 billion by 2030.
Collaboration software refers to solutions designed to enhance and enable coordination and cooperation among team members regardless of their geographical location. It's a centralized platform where teams seamlessly share knowledge, documents, and data in remote and hybrid work settings. Using collaboration solutions increases productivity, streamlines workflows, and promotes more effective communication. Recent data shows that 75% of employees rate collaboration and teamwork as necessary to their role. Over 50% of U.S. workers say their jobs rely on collaboration, while 6% of employees blame lack poor collaboration for workplace failures.
As businesses increasingly recognize the importance of connecting remote and hybrid teams, the demand for innovative collaboration solutions surged dramatically. To stand out, marketers need a smarter approach to identify key decision-makers, engage them with relevant content, and optimize their campaigns for maximum impact on pipeline and revenue. Here's how a data-driven, account-based marketing (ABM) strategy powered by ML Insights can help.
Identify and Prioritize In-Market Accounts and Buying Committee Members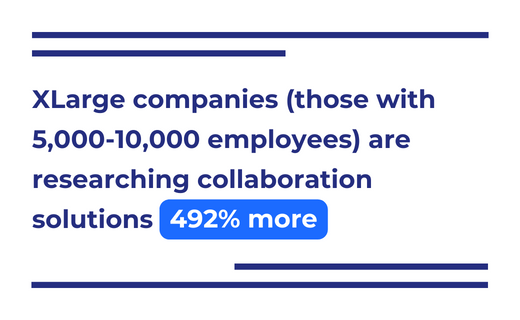 The demand for collaboration solutions reverberates across companies of all sizes; however, a distinct pattern emerges as larger corporations amplify buyer research efforts. Our data shows that the XXLarge enterprises (those with 10,000+ employees) displayed an impressive 144% surge in such research, while XLarge companies (5,000-10,000 employees) eclipsed expectations with a remarkable 492% increase in research over the past year.
By industry, we've seen high engagement for collaboration-related content from Finance and Manufacturing organizations, but we've also noticed that those in Healthcare amped up their research behavior. Updates to 20th-century technology and outdated systems that do not inherently foster stronger collaboration drive more research from these organizations. According to Forbes, the global clinical and collaboration market forecasts a 17.3% compound annual growth rate by 2027. Analysts predict that health organizations that prioritize data integration, patient engagement, and caregiver collaboration will see more success in the coming years.
ML Insights data shows North American companies increased engagement with collaboration content over the last year, but that doesn't mean interest in these solutions by other countries isn't building as well. Over the last year, organizations in Europe, the Middle East, and Africa (EMEA) have demonstrated a growing interest in collaboration-related content. While fully remote work arrangements are still uncommon in Europe, 43% of employers now allow on-site employees to work from home or another place for a few days each week or month.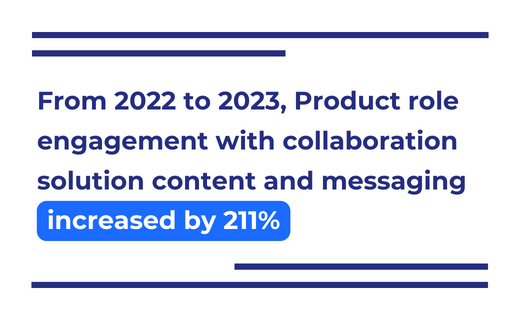 Finally, while our data shows the highest engagement and research among those in IT, Operations, and Technology roles, we've also seen a 211% increase in engagement by those in Product roles. This accelerated interest from Product teams reflects a competitive opportunity based on their increased need for efficient team collaboration tools in a remote and hybrid work environment. Go-to-market initiatives are often rushed in extremely competitive environments, so maintaining communication and teamwork would be key for these departments.
Execute a Personalize Campaign Strategy at Every Stage of the Sales Cycle 
Personalization in ABM is important; when content speaks to buyer needs and stages of the buying journey, it keeps accounts interested and moving in their pursuit of a solution. Marketers must create persona-relevant and easily consumable content focused on how collaboration solutions solve remote and hybrid work concerns to increase conversion rates. 
While our data shows Director roles engaged with collaboration content the most, members of the C-Suite increased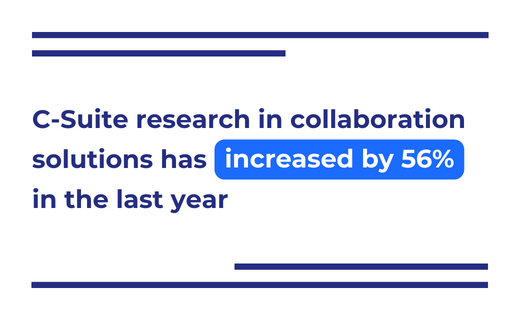 their research in collaboration solutions by 56% in the last year. This demonstrates the importance of collaboration and communication among employees and teams to a company's bottom line. A recent poll of over 150 U.S. CEOs reveals that many companies enforce a return to the office because they struggle to foster strong communication, collaboration, and team bonding in remote and hybrid work environments. This reveals an opportunity and demonstrates the importance of investing in effective collaboration solutions for a company's success. Marketers must capture this need and urgency in their content and messaging by ensuring it speaks to the key decision-makers' concerns and pain points.
Marketers can capitalize on the continued interest in collaboration solutions by incorporating workforce optimization, cloud communications, remote working, and unified communications content and messaging into their promotional strategy. They should also demonstrate how businesses can seamlessly integrate collaboration solutions into their workflow, highlighting specific use cases such as virtual collaboration, video conferencing, and workforce management.
Continuously Measure and Optimize Campaign Strategy for Maximum Impact 
Meeting buyer needs means remaining agile and diligent in campaign performance and areas of opportunity to improve. Marketers should create and implement optimizations across companies, content, and personas to maximize conversions and accelerate deal velocity. They can quickly identify optimization opportunities by continuously measuring account engagement and campaign performance on real-time pipeline impact. We recommend the three V's: pipeline volume, value, and velocity.
If an account shows no progression through the pipeline or the velocity has decreased, there may be a problem with targeting. If there is a disproportionate number of accounts targeted vs. the volume of opportunities in the pipeline, marketers may need to rethink their messaging. If deal sizes are decreasing, marketers may need more content that persuades buyers to invest in the full possibilities of their solutions.
Using the collaboration space as an example, ML Insights data indicates an excessive focus on finance institutions with collaboration content; this sector acknowledges the significance of remote and hybrid setups, particularly in banking. However, despite their strong appetite for initiatives that enhance patient care, we can also see that healthcare organizations receive insufficient attention.
By shifting targeting efforts towards these healthcare companies and delivering content emphasizing virtual collaboration in patient care use cases, accounts will progress more swiftly through the buying journey due to receiving the required content, increasing pipeline velocity.
This is just one example where the ML Platform assists marketers in identifying content and targeting gaps, enabling them to optimize campaigns effectively. This level of detail provides a more accurate understanding of the buyer's journey, engagement, and pipeline impact, empowering marketers to uncover optimization opportunities and increase the efficiency of their media investment. 
Every Successful B2B Marketing Strategy Begins with Data 
Regardless of the market space, marketers need data to identify key accounts and personas, develop personalized campaigns, and measure and optimize campaign performance.  
At Madison Logic, we help marketers use the world's leading purchase intent data signals to create relevant ABM strategies that accelerate the buyer's journey and drive pipeline. 
ML Insights offers B2B marketers the most advanced dataset available, simplifying the identification of in-market accounts, the prioritization of individuals to engage within the organizations and the content that can accelerate the sales cycle for each audience. We achieve this through the MLI Score, a holistic signal that unifies three key data sources to reveal who's being targeted, who's engaging with content, and who is researching solutions so you can go after the accounts with the highest propensity to purchase. And when combined with CRM and MAP first-party customer data, marketers using ML Insights gain deeper insights to maximize their marketing spend and accelerate accounts through the buying journey.
Smarter strategies start with data, and we can help today's marketers maximize their efforts through the strength of ML Insights.
Want more information on how to embrace data to develop more targeted and personalized campaigns that drive higher engagement and accelerate conversions across the sales cycle? Click on the links below:
---