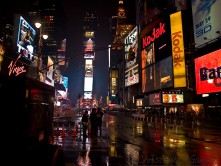 We have seen programmatic quickly become digital advertising's go-to method for media buying, and across other industries, where experts are saying that 2015 is going to be a year of even more rapid growth in that space.
2015 started off with AOL conducting layoffs as a result of programmatic technology eliminating the need for larger sales organizations to conduct media transactions.
According to the Wall Street Journal, the company laid off roughly 150 staffers in late January, "mostly people working in ad sales, as the company continues to reinvent itself as a programmatic advertising powerhouse…The company noted during a recent conference call that revenue from this sector nearly doubled from the third quarter of 2013 to the third quarter of 2014. In fact, sources close to AOL management believe that 50 percent of digital ads will be sold via private digital marketplaces in two years—rather than via ad sales executives negotiating with buyers.
Over the past few years, few companies have embraced programmatic advertising like AOL. Chief executive Tim Armstrong has often referred to AOL's sales strategy using a barbell metaphor, with programmatic ad sales representing one-end and custom ad packages representing the other end. Now, the middle of the barbell, i.e. selling clients more standard, bulk banner campaigns, is getting thinner."
WSJ also notes, "AOL is not the only big digital media company facing this issue. During Yahoo's earnings call earlier this week, Chief Executive Marissa Mayer spoke repeatedly about the industry-wide declines in display advertising. That's why Ms. Mayer is focused on growing revenue in Web video and mobile, among other sectors."
The major ISPs are adapting to the new world of programmatic and leading further exploration into the possibilities of programmatic.
For instance, across media channels, video has been making its mark as a powerful engagement tool, but scalability and device integration have presented significant obstacles to its growth. But programmatic may be the way to help alleviate those issues. According to [MediaPost coverage of] a recent BrightRoll report, "nearly four times as many agencies expect to spend the majority of their digital video ad budget via programmatic in 2015 compared to 2014.
BrightRoll surveyed 120 different U.S. ad agencies in December 2014 for the data. The company has been conducting the same survey for the past three years.
Nearly one in four agencies (22 percent) plan to dedicate a majority of digital video budgets to programmatic channels in 2015, up from just 6 percent the year before.
Over one-third (35 percent) plan to dedicate "around half" of budgets to programmatic this year — up from 32 percent last year — while 43 percent of agencies plan to dedicate a minority of their budget toward programmatic, down from 63 percent the previous year.
According to BrightRoll's survey, most agencies expect mobile video to be the fastest-growing category in terms of digital media spend this year, followed by desktop video. Interestingly, 27 percent of respondents said they expect "programmatic TV" to be the ad category that sees that largest increase in digital media spend in 2015, tied with mobile display and ahead of desktop display, social and search."
Native advertising is another important weapon in the marketer's arsenal that is being impacted by the industry's general shift toward programmatic. A recent MediaPost article highlights the dilemma that native advertisers are facing when it comes to integrating a programmatic platform.
"[Programmatic] allows sophisticated targeting, optimization, and attribution — without worrying about the nuances of each separate publisher. Programmatic must allow massive scale without requiring a separate contract for each source of inventory.
Meanwhile, long-form, onsite native creates a tightly integrated experience for highly targeted campaigns aiming to reach a handful of publishers. A single piece of content produced by the advertiser will match the brand voice of these publishers.
However, much as with banner ads, advertisers will never be able to forge direct relationships with thousands of publishers and produce unique content for each of them. So either the unique content limits the scale to a small number of partners, or the content is more general and does not match the editorial voice across the broader distribution of publishers. The former limits the ability of native to go programmatic and achieve meaningful scale, and the latter requires a large set of publishers willing to host arbitrary third-party content under their masthead. Both are suboptimal, with the latter undermining publishers' integrity.
So, while it will have its place as a niche format, long-form, onsite native ultimately cannot be the standard for programmatic at mass scale."
However, as MediaPost points out, "by tapping into the pool of programmatic native, publishers can significantly increase their monetization options.
It's very possible that native will be fully programmatic in the near future. Several large DSPs have announced integrations with RTB-enabled native platforms ranging from Facebook to general translation layers. And with any luck, in a few good years, the days of banner ads might be behind us."
Across the board, industry insiders seem to think that programmatic technology will eventually enable the various channels to accomplish their goals of real-time engagement at scale. If the first couple months of 2015 are anything to judge by, we're well on our way to proving them right.
Image via ChrisGampat
Be the first to know
Subscribe to receive the latest B2B marketing research, whitepapers, articles, infographics, ML news, and more.