3 Critical Steps To Account-based Marketing Success [WEBINAR]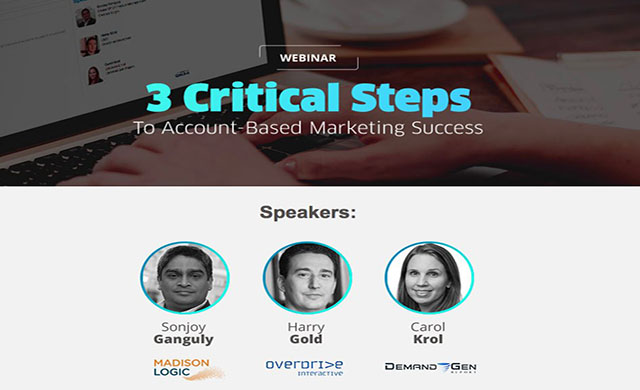 A recent study conducted by ITSMA revealed that 80% or marketers say that ABM outperforms every other marketing investment. Whether you are increasing your portfolio of accounts, upselling your current customers or just beginning your ABM journey, account-based marketing is clearly no longer a "nice-to-have." If you're a B2B marketer, it is simply smart business.
ABM can help you reach the key influencers and decision-makers at the most important accounts for your business. So how do you know where to start? This webinar will spell out the three critical steps you need to take in order to begin your path to ABM success:
How to Build an Account List – What are the accounts that matter? Who is really interested in your products and services?
How to Engage Prospects –What are the best performing channels? What are the best practices for attracting and influencing prospects?
How do You Measure Success –  How can you measure the attribution and engagement of your ABM programs to your target accounts?
This session features ABM Experts Sonjoy Ganguly, Senior VP of Product Management at Madison Logic, and Harry Gold, CEO of Overdrive Interactive, who will guide the audience through a process designed to kick-start account-based marketing initiatives.